Japan Wins "Best Contemporary Event" for 2015 dated COTY
The Japan Mint won the "Best Contemporary Event" category for Krause's Coin of the Year Award for coins dated 2015. The gold 10,000 yen, (Y.248), dated 2015, is the third in a series commemorating the Great East Japan Earthquake Reconstruction.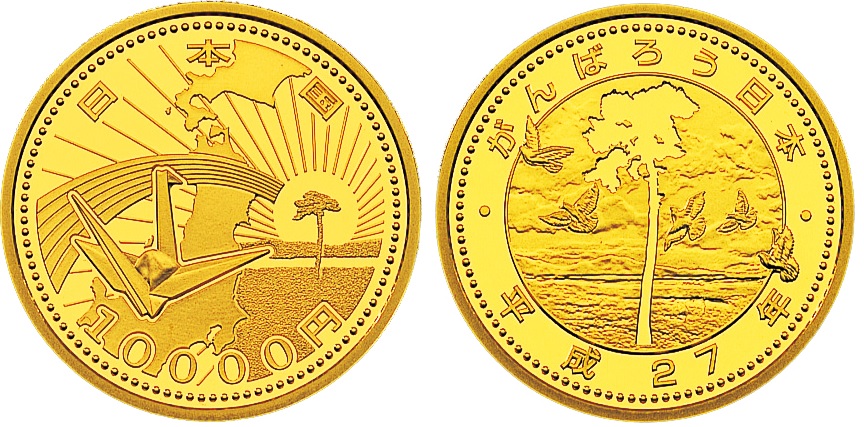 The Great East Japan earthquake occurred on March 11, 2011. In addition to being the most powerful earthquake to hit Japan, the magnitude 9.0 earthquake triggered a 133-foot tsunami. The waves reached heights of up to 133 feet in Miyako in Tohoku's Iwate Prefecture, creating a path of destruction that included the meltdown of the Fukushima Nuclear Power Plant.
The Japanese National Police Agency confirmed 15,891 deaths, 6,152 injured, and 2,584 people missing across twenty prefectures in the wake of the powerful earthquake. The World Bank estimated the economic losses at US$235 billion, making it the costliest natural disaster in world history. To mark the enormous efforts to rebuild the region, the Japan Mint created the Great East Japan Earthquake Reconstruction Project commemorative coin program.
The obverse of the coin depicts an origami crane that is flying over special zones of Japan. The pine and the rainbow are in the background of the coin. Small raised dots encircle the design, and "Japan" and "10000 Yen" (rendered in Chinese characters) are also inscribed on the obverse. The obverse design was created by Mr. Teruo Yasuda of Tokyo, who won a public design contest sponsored by the Japan Mint and Ministry of Finance. Adjustments were made to the original design as needed for coining.
The reverse for all four coins in the series is the same. It features a tableau of doves flying in front of a pine tree. Referred to as the "Miracle Pine," it represents the solitary survivor of an approximately mile-long stretch of pine trees in Iwate prefecture, which was devastated the 2011 earthquake and tsunami. While most of the pine trees were destroyed, the "Miracle Pine" survived. The tree is surrounded by five pigeons. A ring with Japanese inscriptions encircles the central design, and a circle of small raised dots is also found on the reverse. The inscriptions state that the coin was minted in the 27th year of the reign of Emperor Akihito.
The coin is comprised of .999 Fine Gold. It weighs 15.57 grams and measures 26.00 millimeters in diameter. The mintage was limited to 9,643 coins worldwide.