IsoNodes and Vibrapods for Component Separation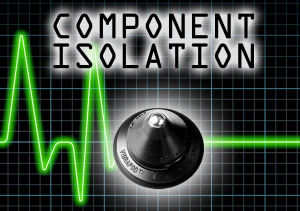 Audio components on a rack pick up sonic vibration carried by the air in the room where the music is played. They also carry actual vibration from their own electrical movement and from the other components in the rack, which ultimately affects sound quality.
Manufacturers attempt to minimize the problem of vibration by attaching feet to the component as an attachment or as an accessory that can be upgraded. Like the power cord that comes in the box, the feet that are attached to the component should remain in the box.
Vibration, however subtle, creates signal echo or some electric reverberation. The micro movement impacts the transparency and depth. Some of the crispness and detail will be "played over" and sound a touch more muddy. That "blackness" that your expensive power cord restores to the soundstage will be fighting over an ever so slight dirty signal created by vibration.
Remember that no component is an island. Each component combines with another in the chain. If something bad, like vibration, is affecting one component it tends to contaminate others in the chain.
There are many products in the market that can effectively reduce the vibration in your components and they range broadly in price. I found two of the least expensive products to be the most sensible and most effective for use with my HiFiMan HE5 headphone amplifier—Bright Star Audio's IsoNodes at $14.95 for four and Vibrapods at $7.00 each for the base and $7.00 each for the cones.
The IsoNodes are round on one end and flat with a peel off tab to stick it to the existing feet of your component. Bright Star Audio says, "The unique IsoNode polymer rejects a wide range of vibration trying to enter from underneath the component." For the price and size of the headphone amplifier, they work perfectly.
The Vibrapods are actually a two piece product, but each piece can be used separately. The Vibrapod Isolator is a round base, probably made of a sorbothane composition that absorbs vibration emanating from the surface as well as from the component. The Vibrapod cone has a ball bearing tip that touches the bottom of the component. The manufacturer recommends using three Vibrapods in a triangle beneath the component. The cone can also be inverted.
Since the HiFiMan HE5 is rather small and sits on my desk where there are vibrations from my computer and other items, I found the Bright Star Audio IsoNodes to be more functional then the Vibrapods because they stick to the existing feet which allows me to more easily move the amplifier when I am not using it without having to set it up again on cones.
The Vibrapods are very effective, however, and they quickly found a home under a component in my stereo rack. I also use Vibrapods under my cable box and I could swear the picture looks better.