Imagine in High Resolution Blu-ray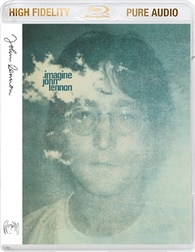 It is not always the case that a high resolution 96kHz/24bit sounds better than a CD at 44mHz/16bit. More often than not, the remastering matters more than the bit rate. This is one of those times.
The high resolution Blu-ray and, presumably, the digital download available on HDTracks is taken from the 2010 remaster overseen by Yoko Ono. While this is much better than the Yoko Ono mix from 2000, which many consider a sacrilegious injustice to the album, it is not nearly as good as the Mobile Fidelity Sound Labs remaster of 2003.
John Lennon's second album, Imagine, is one of the most prominent releases by Universal Music Group's new high-end digital audio offering. Other notable releases include Elton John's Goodbye Yellow Brick Road, Lenny Kravitz's Are You Gonna Go My Way, and Rolling Stones' Let It Bleed.
Released in 1971 by Apple Records (Cat# PAS 10004, 1E 064-04914), it became one of the top albums of all time. Imagine has been so popular it has been covered by many artists including Elton John, Stevie Wonder and more than 140 other artists.
Imagine is arguably Lennon's best solo work. Lennon said of the title track, "Anti-religious, anti-nationalistic, anti-­conventional, anti-capitalistic, but because it is sugarcoated it is accepted… Now I understand what you have to do. Put your political message across with a little honey."
Yoko Ono supervised the remixing of Imagine for its remastered reissue in 2000 (Cat# CDP 7243 5 24858 2 6). In 2003, it was reissued by Mobile Fidelity Sound Lab on gold CD and on 180 gram half-speed mastered vinyl (Cat# UDCD 759).
In 2010, Paul Hicks and Sean Magee remastered the album (Cat# 5099990650222), and it appeared on the Billboard Top 200, ranking 88th. And now, in 2014, the album has been released by Universal Music on the High Fidelity Pure Audio Blue Ray format based on the 2010 remaster (Cat# 0600753475225).
Due to the space allowed on a Blu-ray disc, one audio track seems insufficient. As a result, there are three versions of the same data provided on the Imagine Blue-ray: 24bit/96kHz LPCM 2.0, 24bit/96kHz DTS-HD Master Audio 2.0, and 24bit/96kHz Dolby TrueHD 2.0. Although the disc could have only included the LPCM version, as both DTS-HD MA and Dolby TrueHD are lossless codecs and produce identical LPCM streams. There is also a code included for a digital download version of the album, which is not in a high-resolution format and is instead 320kbps compressed MP3.
Unlike prior rereleases, the HFPA version of Imagine does not contain any bonus tracks. In addition, the booklet inside the disc is nearly identical to the one that accompanies the 2010 remaster.
A high resolution download of this DVD comes free. The download is also available on HDTracks. While it is not stated that the HDTracks is from this DVD, the liner notes included with it are the same. We learn from HDTracks that, "This digital remaster of Imagine was transferred from Protools 192 kHz (Prism AD8) into an analogue EMI TG12410 desk, into Sadie at 96kHz/24bit. "
In conclusion, if you are looking for the best sounding version of John Lennon's, Imagine, do not buy this Blu-Ray or the digital download. Look for the 2003 Mobile Fidelity Sound Lab CD and play it back through a good DAC.