The History of the Teddy Bear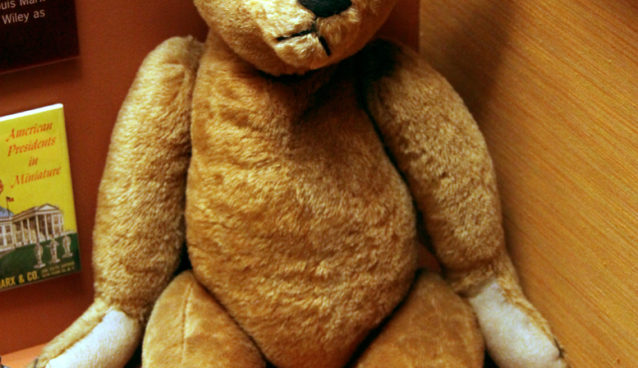 The Teddy Bear and Theodore Roosevelt are a part of the childhood of every American.  However, not everyone makes the connection between the cute stuffed bear and the straight talking, progressive era ex-President.
In 1903, a Brooklyn candy store owner put two stuffed toy bears in his shop window. He called them "Teddy" bears in a nod to President Theodore Roosevelt's refusal to shoot a large black bear that had been tied to a tree.  The inventors name was Morris Michtom and the Ideal Toy Company was born.
In 1902, President Roosevelt was hunting in Mississippi when his guides encouraged him to shoot a 235-pound black bear that had been tied to a tree. The President, an avid hunter and outdoorsman, refused to take the unsportsmanlike shot. He is rumored to have said, "I've hunted game all over America and I'm proud to be a hunter. But I couldn't be proud of myself if I shot an old, tired, worn-out bear that was tied to a tree."
The encounter was reported in the press, including the Washington Post. Political cartoonist Clifford Berryman made light of the President's refusal to shoot the bear by portraying it as a young cub and comparing it to Roosevelt's indecision over a Mississippi boundary dispute.
The story also inspired Michtom and his wife to make the first stuffed bear toy. After making two prototypes, Michtom petitioned President Roosevelt for permission to use his nickname, Teddy. The President agreed, although he did not expect the toys to become so popular.
The teddy bears were such a hit that the Mitchom's formed the Ideal Toy Company to keep up with production. It quickly became a multimillion-dollar business. According to the National Museum of American History, the bear became such a popular toy that a Michigan minister warned that little girls might lose their maternal instincts after casting away their dolls in favor of teddy bears.
Around the same time, Richard Steiff and his aunt, Margarete Steiff, also designed a new soft toy, which were inspired by the bears at their local zoo in Germany. The Steiff Company produced its first jointed stuffed bears in 1903, and they were first introduced one year later at the Leipzig Fair. There, an American toy buyer saw the bears and ordered 3,000 to be shipped back to the United States.
The first teddy bears were constructed of mohair fabric and featured leather button eyes, embroidered mouths and noses, articulated joints at the arms, legs, and head, cloth soles, and felt claws. More than one century later, thousands of varieties of teddy bears are sold in the United States.