Hirshhorn Displays "Ai Weiwei: According To What?" Until February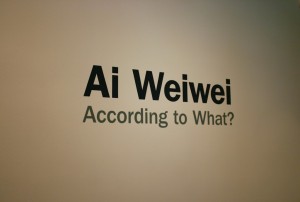 Fine art in China has been attracting attention in the art community as the ever increasing prices for all genres of Chinese contemporary art in the market reflect. Ai Weiwei is one of the great artists working in China today and his exhibit, "Ai Weiwei: According to What?" on display at the Smithsonian's Hirshhorn Gallery in Washington, D.C. represents the diversity of his talent.
Weiwei's work takes up a full floor in the gallery, and showcases sculpture, photography, installation, video and audio work to provide a comprehensive display for art lovers with varying interests. The artwork on display in the Hirshhorn was previously exhibited in the Mori Art Museum in Tokyo in 2009, but the existing production contains several new pieces of artwork, many of which are on display for the first time.
Weiwei's work reflects on and draws inspiration from a range of subjects, including history, politics, tradition and culture. These topics are infused in his artwork, making them both relevant and thought-provoking. The Mori Art Museum once praised Weiwei for his ability to explore universal and fundamental questions and topics through his artwork, a talent that is able to appeal to a variety of people with different backgrounds, beliefs and experiences.
As an artist, Weiwei is well-known for his collaboration with architects Herzog & de Meuron on the design for the main stadium – the "Bird's Nest" – for the 2008 Olympic Games in Beijing. He was also able to attract more than 1,001 Chinese to Documenta 12 in Kassel, Germany, in 2007 with his "Fairytale" contribution.
In his personal life, he is well-known for his political activism in China, the result of which led to his 81-day stint in a Chinese detention center back in 2011. Speaking of his personal life and artwork, Weiwei has said:
"I've experienced dramatic changes in my living and working conditions over the past few years, and this exhibition has been an opportunity to reexamine past work and communicate with audiences from afar. I see it as a stream of activities rather than a fixed entity. It is part of a continual process in self-expression."
His work provides for interesting insight, and is well-worth seeing. If any of your holiday travel locations include D.C., I would highly recommend visiting the exhibition. It will be on display in the Hirshhorn through February 24, 2013.