Grapefruit: How the Caribbean Can Help With Your New Year's Resolution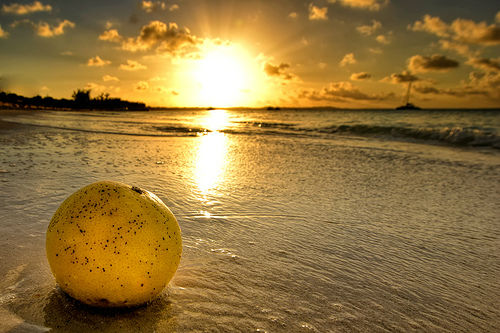 Feeling cold and cooped indoors during this long, cold winter?  Eat a grapefruit.
While it is cold, dreary and constantly snowing in the Northeast this winter, it is grapefruit season in the sunny Caribbean. So if you cannot make time to hop on a plane for warmth and sunshine, unleash the heat with a fresh grapefruit and put a smile on your face.
Grapefruit can also help you stick to your "healthy eating" New Year's resolutions. In addition to being rich in Vitamin C, the antioxidant lycopene, and a number of other essential nutrients, the super food has also been shown to curb appetites, boost metabolism, and lower bad cholesterol. One grapefruit a day may even ward off some forms of cancer.
Due to its reputation for being more tart and tangy than sweet, many people assume they won't like it, without even giving it a try. However, there are so many types of grapefruit available; most are bound to find one that suits their tastes.
An easy tip — the red variety is the sweetest, with white and pink grapefruit are more tart. For those not ready to take the plunge into eating a whole grapefruit, try adding it to a salad or fresh salsa.
While the numerous health benefits of grapefruit are a relatively new discovery, it has a rich history, dating back to the 18th Century. The naturally occurring hybrid is believed to have originated in Barbados as a natural cross between the sweet orange and pomelo, a fruit originating in Indonesia. It was originally referred to as the "forbidden fruit." The name "grapefruit," which was coined in Jamaica, reflects how the fruit grows in clusters, much like grapes.
Today, the grapefruit is still an essential part of the Caribbean's citrus industry. Key exporters include Jamaica, Dominica, and Cuba. Prime harvesting season occurs in late winter and early spring, bringing fresh fruit to the United States when other options are lacking.