The CD is Not Dead: Catalog of The First 100 Mobile Fidelity Sound Labs CDs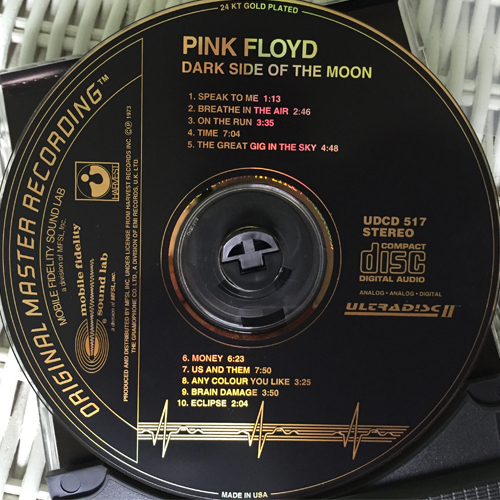 Anyone who has had to return to their CD collection and rip it for a second or third time knows that CD's are not dead.  Hard drives are not forever.  When they age they will inevitably become corrupted and the information on them may be lost.  In addition, the popularity of file formats change.  In the 1990's, people were happy with MP3—a compressed digital format used primarily in iPods that sacrifices highs and lows to save hard drive space.
As hard drives become available in smaller sizes with higher capacities, compression became less necessary and desirable.  Even Apple began to offer a lossless compressed format, ALAC and a lossless format that is not compressed, AIFF.  Essentially, AIFF is the Apple equivalent of FLAC.  Both of these formats allow metadata to be stored with the music file which is what makes these formats preferable to basic WAV files, which just contain sound information.
As digital sound reproduction technology has improved, the public demand for good sound has steadily increased.  The easiest, and least expensive improvement available free to all music listeners who saved their old CD collection is to go back to the CD's and rip them over in iTunes using AIFF.  Those who are not reliant on iTunes andare more technological savvy could rip them as FLAC or WAV files using non-Apple products.
The next step to improve quality is to reconsider the CD's sources.  Is there a remastered version of the same CD that you have in your collection?  If the CD was made in the 1980's, odds are good that a post 1990's remaster is an improvement.  Except, that is, if the 1990 made CD in your collection comes from a high quality source like Mobile Fidelity Sound Labs, Dunhill Records DCC, Columbia Records Mastersound, or other companies that use the master tapes in the reproduction process.
Mobile Fidelity Sound Labs (MFSL) began to make CD's in the 1980's.  They used the original masters of selected recordings and pressed them on aluminum.  After 1987, MOFL replaced aluminum with gold plated "Ultradics."  In 1992, MOFL began to manufacture their CD's in their own facility in the United States.  They designated these discs as "Ultradisc 11."  The founder of MFSL retired in 1994 after selling the company.  Today the company is owned by Music Direct.

A complete catalog of Mobile Fidelity Sound Labs CD's is as hard to find as the CD's themselves.  The following is a catalog of the first 100 MFSL CDs.  If you can find any of these in the secondary market, the prices will be convincing proof that CD's will be alive and well for some time to come.
UDCD 501 CS-1 Classical Sampler,
UDCD 502 JS-1 Jazz Sampler
UDCD 503 Joe Jackson – Will Power
UDCD 504 The Power & The Majesty
UDCD 505 Supertramp – Crime Of The Century
UDCD 506 David Grisman – Hot Dawg
UDCD 507 Blind Faith – Blind Faith
UDCD 508 A Very Special Christmas – Various Artists
UDCD 509 Huey Lewis & The News – Sports
UDCD 510 Jethro Tull – Thick As A Brick
UDCD 511 The Police – Synchronicity
UDCD 512 Moody Blues – Days of Future Past
UDCD 513 Allman Bothers – Eat a Peach
UDCD 514 Louis Armstrong/ Duke Ellington – Together for 1st time
UDCD 515 Steely Dan – Aja
UDCD 516 Elton John – Madman Across The Water
UDCD 517 Pink Floyd – Darkside Of the Moon
UDCD 518 Pink Floyd – Meddle
UDCD 519 Cat Stevens – Tea For the Tillerman
UDCD 520 Def Leppard – Pyromania
UDCD 521 Beach Boys – Surfin USA
UDCD 522 John Klemmer – Touch
UDCD 523 Jefferson Airplane – Crown of Creation
UDCD 524 Jethro Tull – Stand Up
UDCD 525 Carpenters – A Song For You
UDCD 526 Elton John – Goodbye Yellow Brick Road
UDCD 527 The Band – Music From The Big Pink
UDCD 528 Sting -Dream of the Blue Turtles
UDCD 529 Various Artists (Stones, Rush, Police, Dire Straits, etc.) – After The Hurricane
UDCD 530 Hall & Oates – Voices
UDCD 531 Jeff Beck – Wired, 532 Rod Stewart – Every Picture Tells a Story
UDCD 532 The Who – Tommy
UDCD 534 Supertramp – Breakfast In America
UDCD 535 Boz Scaggs – Silk Degrees
UDCD 536 Elton John – Honky Chateau, 537 Pink Floyd – The Wall
UDCD 538 Frank Sinatra – Songs For Swinging Lovers
UDCD 539 Joe Jackson – Night And Day
UDCD 540 Jefferson Airplane – Volunteers, 541 Harry Nilson – Nilson Schmilson
UDCD 542 Tribute To Cole Porter (Red, Hot, & Blue) – Various Artists
UDCD 543 Elton John – Tumbleweed Connection
UDCD 544 Brian Adams – Reckless
UDCD 545 Steely Dan – Gaucho
UDCD 546 Sting – Nothing Like the Sun
UDCD 547 John Coltrane – Bluetrane
UDCD 548 BB King – Live At The Regal
UDCD 549 Earl Klugh – Finger Painting
UDCD 550 The Who – Quadraphenia
UDCD 551 Tom Petty – Damn The Torpedoes
UDCD 552 Santana – Abraxas
UDCD 553 Eric Clapton – Slowhand
UDCD 554 Stevie Wonder – Innervisions
UDCD 555 Roy Orbison – Mystery Girl
UDCD 556 Lynyrd Skynyrd – Second Helping
UDCD 557 Keith Richards – Talk is Cheap
UDCD 558 Allman Brothers – Live at the Filmore East
UDCD 559 Blood, Sweat & Tears – BST
UDCD 560 Elvis Presley – Thats the Way It Is
UDCD 561 The Who – Who Are You
UDCD 562 Cream – Disraeli Gears
UDCD 563 Cannonball Adderly – Somethin Else
UDCD 564 Robert Cray – Strong Persuader
UDCD 565 Tom Petty – Hard Promises
UDCD 566 Jimmy Reed – Live at Carnegie Hall
UDCD 567 John Lee Hooker – The Heeler
UDCD 568 Queen – A Night At The Opera
UDCD 569 Rush – Moving Pictures
UDCD 570 Joni Mitchell – Wild Things Run Fast
UDCD 571 U2 – War
UDCD 572 Traffic – Mr. Fantasy
UDCD 573 Dave Mason – Alone Together
UDCD 574 Aretha Franklin – I Never Loved A Man
UDCD 575 Otis Redding – Otis Blue
UDCD 576 Moody Blues – In Search Of The Lost Chord
UDCD 577 Albert King – Born Under A Bad Sign
UDCD 578 Manhattan Transfer – Extensions
UDCD 579 Steve Winwood – Arc Of A Diver
UDCD 580 Def Leppard – Hysteria
UDCD 581 Willie Nelson – Shotgun Willie/Phases & Stages
UDCD 582 Boston – Third Stage
UDCD 583 James Brown – Live At The Apollo
UDCD 584 Neil Diamond – Hot August Night
UDCD 585 Derek And Dominoes – Layla
UDCD 586 Ella Fitzgerald – Swingin Christmas
UDCD 587 Carreras, Domingo, Pavarotti – 3 Tenors
UDCD 588 Queen – News Of The World
UDCD 589 Bobby Short – Live At Cafe Carlyle
UDCD 590 Rush – 2112
UDCD 591 Todd Rundgren – Something/Anything?
UDCD 592 Mel Torme/ Buddy Rich – Together
UDCD 593 Muddy Water – Folk Singer
UDCD 594 Eric Clapton – 461 Ocean Blvd.
UDCD 595 Pink Floyd – Atom Heart Mother
UDCD 596 Modern Jazz Quartet – Blues At Carnegie Hall
UDCD 597 Heart – Heart
UDCD 598 Emerson, Lake, & Palmer – Tarkus
UDCD 599 Charles Mingus – At Carnegie Hall
UDCD 600 Yoko Ono/ John Lennon – Double Fantasy