Finland Wins "Best Silver" COTY for 2015 Dated World Coins
Finland's 10 euro (KM-226) marking the 70th anniversary of peace after World War II won "Best Silver" Krause Coin of the Year Award for coins dated 2015.  Finland also took home an award for its 5 Euro Lapland reindeer coin (KM-224), which was named the "Best Bi-Metallic Coin."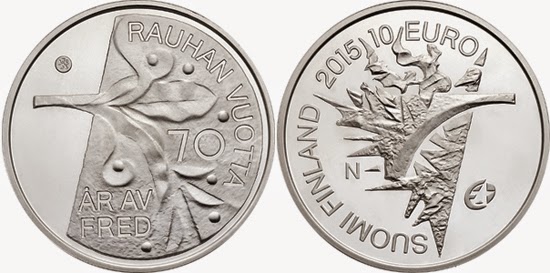 The Mint of Finland was one of several European mints to produce a coin commemorating the end of World War II as part of the Europa Coin Programme. The initiative is dedicated to the issuance of collector-oriented legal tender coins in precious metals to celebrate European identity, with a new theme each year. 
"Each year, we have witnessed very different implementations of the shared theme. In addition to the theme, coins released in the programme are united by a logo struck on the collector coin. The logo combines the star of the EU flag and the letter E, depicted by the € symbol," Mint of Finland's CEO Paul Gustafsson stated.
Petri Neuvonen designed Finland's 70 Years of Peace in Europe coin. Rather than using a dove to represent peace, the coin depicts the juxtaposition of war and peace, with a bridge connecting the two.
The coin's obverse shows the arch of a bridge with fire and destruction behind it. In contrast, the obverse features shoots, leaves, and fruits winding around the arch, symbolizing peace and growth. The two sides, depicting the stark contrast between peace and war, are joined on the deck of the bridge.

The coin has a nominal value of EUR 10 and is comprised of Ag925/1000 silver. The diameter of the coin is 33 millimeters, and it weighs 17 grams. The mintage of the coins was limited to 10,000. Seventy of the 10,000 coins minted were numbered on the reverse and sold in glass cases.