FIDEM Holds Congress in Bulgaria
The Fédération International de la Médaille d'Art (FIDEM) or International Medal Art Federation recently held its 33rd congress in Sofia, Bulgaria. The FIDEM, which was founded in 1937, aims to promote and diffuse the art of medals at international level, to make the art known and to guarantee recognition of its place among other arts by increasing awareness of the art, history and technology of medals.
The FIDEM XXXIII Congress was organized by Bulgaria Delegate, Bogomil Nokolov, and sponsored by the University Museum of Bergen (Norway). In total, 103 registrants attended the event, including 13 U.S. delegates.
While the congress featured meetings and lectures, the highlight of the event was the exhibition of 785 contemporary medals from 443 artists and 30 countries. The medals were very crammed in the display cases because the Archaeological Museum, where the exhibition was held, was only able to provide 15 display cases and FIDEM needed 35. However, the organizers did an excellent job of making the best of the situation. The FIDEM exhibition was documented in a 290-page, hard cover catalog, which is available for purchase.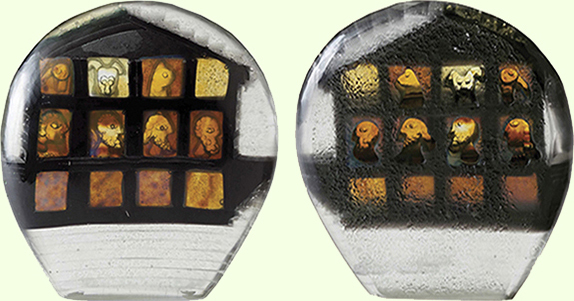 The FIDEM congress also included Student Medal show at the National Academy of Art, a Dutch medal project exhibition and individual shows displaying the works of Emil Bachijski, Mirena Zlateva, Natasha Ratcliffe and Bogomil Nikolov. Participants also attended workshops and area tours.
Professor Bogomil Nikolov designed the commemorative medal marking the 33rd congress. The bronze medallion features the moon and sun on the obverse, which are often found on the medieval Bulgarian stone reliefs, and the congress logo on the reverse.
The United States also commissioned a delegation medal to celebrate the congress, which it has done since the 1983 XIX Florence Congress. While the medal is generally the result of an open competition, this year's medal was commissioned to Ivank Mincheva directly, who was born, educated, and still has a summer studio in Sofia.
The next congress will be held in 2016 in Belgium.