Eight Days a Week—The Touring Years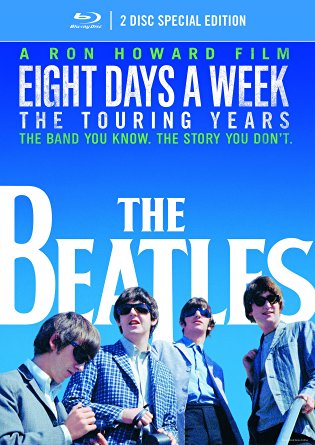 Ron Howard's new film, Eight Days a Week—The Touring Years, is a masterful film about the early success of the Beatles. The documentary cover the band's touring days from 1962 to 1966. 
Following their 1966 concert at San Francisco's Candlestick Park, the Beatles largely retired from touring in favor of focusing on studio recording. As Ringo Starr explained to the Los Angeles Times, "We were playing great and the audiences were getting bigger, and the noise of the audience was overpowering the sounds that we could make. And we started, in my book, to go down as musicians because we were just going on to do the job. And we did it very well, but there was no real excitement for me."
Eight Days a Week—The Touring Years relies on rare and well-known footage of the Beatles performing live along with fan recordings and photos. The film not only chronicles the meteoric rise the band, but also the historical events that surrounded it, including the assassination of President John F. Kennedy, the escalation of the Vietnam War, and growing racial tensions. 
The two-disc set comes with a 64-page booklet that includes an introduction written by director Ron Howard, essay by music journalist and author Jon Savage, and rare photos from the Beatles' private archive. The first disc includes the 106-minute film, while the second includes 100 minutes of special features, such as five rarely seen full length performances.
One of the highlights is film footage of the band's 1965 concert at New York's Shea Stadium. The 11-song set was originally shot on 35-mm film, but was digitally restored for the documentary to 4K resolution. Giles Martin, son of Beatles producer George Martin, remastered the sound.
Eight Days a Week — The Touring Years was produced by White Horse Pictures and Imagine Entertainment. It also had the full support of Paul McCartney, Ringo Starr, Yoko Ono Lennon and Olivia Harrison. Earlier this year, the film won the Grammy award for best music film.
The Beatles documentary is available on Amazon.com. It currently sells for $29.72.