Audience Introduces New Power Cords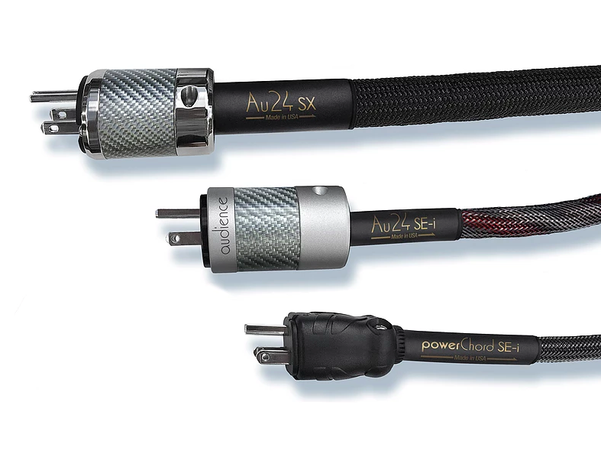 Audience recently announced three new AC power cords — the Au24 SX powerChord, Au24 SE-i power Chord, and powerChord SE-i. Incorporating its latest advancements in materials and engineering, Audience promises to again revolutionize high-performance audio systems.
Audiophiles who understand the difference that power cords make in a high-end audo system will be eager to test the new Audience power chord designs.  Audience recently introduced the X line to their interconnects and it has received high praise from the audiophile community.
While many place a high value on the improvement that good interconnects can offer an audio system, some consider power cords as much more than simply a way to connect a component to a power source. Power cords can interfere with audio quality by bringing capacitance, inductance and resistance into the electron flow. High end power cords are designed to deliver a clear and well-balanced sound.
The Au24 SX powerChord, which is intended for use in audio components that require up to 150 watts of power, is generating the most buzz among audiophiles. According to Audience, the Au24 SX powerChord is the "culmination of 20 years of Audience's experience in high-end power cord design. President John McDonald and the late engineer Roger Sheker devoted a year to designing and testing various configurations of the wire until arriving at the final product.
The Au24 SX powerChord features six-nines pure OCC copper wire, new grounding and shielded construction, and Furutech Fi-50M connectors. "Historically Audience found that shielding power cords resulted in restricted dynamics," McDonald explained. "However, in the new Au24 SX we obtained the best sonic result by using a shielded design but shielding the ground leg only."
According to Audience, the Au24 SE-I powerChord is the latest advancement of the award-winning Au 24 and Au24 SE powerChords. The latest model comes with new, proprietary power cord connectors, which deliver a smoother and crisper sound. Prior Audience Au24 SE and Au24 powerChords can be upgraded to the latest Au24 SE-i version. 
The powerChord SE-i is the latest version of Audience's standard powerChord. Its six-conductor geometry has been updated to deliver a "more spacious sonic presentation with greater solidity of vocals and instruments on a wider and deeper soundstage," according to the company.
Of course, Audience power cords are a significant investment. The suggested retail price for a 6-foot power Au24 SX MP 13 AWG power cord is $3,500 (+/- $150 per foot). A 6-foot Au24 SE-i powerChord will cost $2,560 (+/- $150 per foot). The suggested retail price for the powerChord SE-I is $915 for a 6-foot length, (+/- $30 per foot).