Direct Stream Memory Player Is a Game-Changer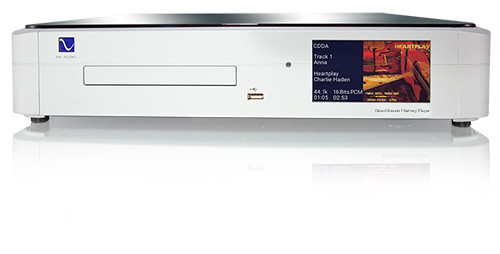 Always count on PS Audio to do it first and do it better than anyone else.  The DirectStream Memory Player allows the high resolution layer of an SACD to play back through a DAC.  For audiophiles with the best DAC's, the SACD is finally free from components that play them without the quality that a dedicated high end DAC can provide.
PS Audio is offering a credit for audiophiles who currently own their PerfectWave Memory player and want to trade it in.  For many of us who have been building SACD collections, the new Memory Player is the component we have been waiting for.
After listening to the unit for a month now, the DirectStream Memory Player was worth the wait and the list price at over $5,500.  Listening to SACD's from the new player through the PS Audio DirectStream DAC is like hearing the music for the first time.  So far just about every SACD sounds better than its equivalent High Resolution download.
The Memory Player uses the Sony license from Oppo, with whom PS Audio worked collaboratively.  However, the most notable upgrade is the digital lens which is proprietary to PS Audio. As the company explained:
After eight years of research and two years of development, PS engineering has been able to decrease the considerable memory requirements of Memory Player and improve the timing of digital audio data. The new Lens takes advantage of advances in semiconductor architecture found in FPGAs (Field Programmable Gate Arrays, as used in both DirectStream and DSJ). Using a single large scale integrated FPGA, Bob Stadtherr devised a segmented structure including intelligent RAM, two-way isolated communication with the drive, and near-field output latches controlled by an ultra-low-jitter fixed clock.
The new player also features USB input, SACD playback, and the ability to output raw DSD. Below are several other key features of the Direct Stream Memory Player:
SACD, CD, CD-R/RW, DVD±R/RW, DVD±R DL, AVCHD, HRx
Plays FLAC, APE, WMA, MP3, M4A, AAC, DTS, AC3, WAV, DSF, MKA, PCM, OGG, from discs or USB input
SACD DSD layer available through I2S output to PS DACs
6-channel digital coax outputs
6-channel digital I2S outputs through HDMI style connector
XLR AES/EBU stereo digital output
Cover art
Full color LCD touch screen
Multi-channel synchronization with PS DACs
Network connection for My PS
Plug and play setup
Remote control
Large CD collections are good for ripping and re-ripping as technology changes.  Many audiophiles who are obsessed with the best sound possible have been adding SACD's.  Unfortunately, the play back has been limited because of Sony's licensing requirements and, as everyone knows, the high resolution layer of an SACD cannot be ripped. The new Direct Stream Memory Player literally breathes new life into SACD's. Once the system is set up, it's difficult to decide which favorite album to resurrect first.
Overall, the clarity, power, and sound stage are truly amazing. When used in conjunction with PS Audio's DirectStream DAC, the Direct Stream Memory Player is the very best on the market. While audiophiles may argue that hi-res files still have a slight edge over CDs when it comes to sound quality, PS Audio has significantly narrowed the gap and, in the opinion of this reviewer, has made an SACD the superior choice to High Resolution digital downloads offered at just about the same price.
The Direct Stream Memory Player sells for $5,999. If you already own PS Audio stereo equipment, you can participate in the company's trade-in program. PS Audio will buy back your used equipment and apply the specified amount toward the purchase of a new PS Audio product.