Clean up your Power with a PS Audio Power Plant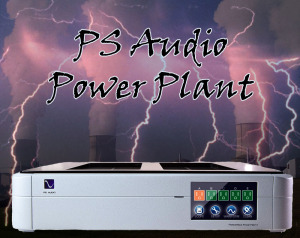 Whether you should buy a power conditioner or a good surge protector depends on how bad the line power is that feeds your audio system. However, if you have thrown away the power cords that came with your audio components and replaced them with good power cords, you are going to want to put good power through them.
The best thing that you could do to improve your power, which would consequently improve sound quality, is to regenerate it completely. The PS Audio Power Plant is the state of the art power regenerator to get.  It takes the AC power from your outlet, converts it to DC power, cleans out all the bad stuff and converts it back to AC power.  It literally rebuilds the power that goes to your components.
If you live in an old big city apartment building, stop reading this article and just call PS Audio to figure out if you need a Power Plant PS-3, PS-5 or PS-10 for your system. If a new one is over your budget, then buy a used one which you can find at PS Audio or on Music Direct. Unless you have heard your components fed with clean power through good power cables you have not realized anywhere near the potential of your components regardless of the price you paid for them.
Admittedly, the first time I was told about power conditioners I thought it was just good salesmanship for another expensive tweak. However, after I watched a few YouTube videos by Paul McGowan, the visionary behind PS Audio, he made sense enough to make me curious to try the technology. Now I am a believer in the PS Audio Power Plant and a buyer of all things McGowan.
If you live in a place where the power in your home is not that bad you can still benefit by using a power conditioner instead of a simple surge protector. Audience, Shunyata, Furman and Nordost make excellent components that recondition power. Like the PS Audio components, they are expensive, but remember that all of these things also serve as surge protectors and power strips.
There is a work around that works on audio systems with lower power demands such as my headphone micro system. You can combine a two outlet power conditioner with a good power strip and save a little money. There is a lower overall power outage, but on systems using receivers and less demanding amplifiers and speakers, it works.
I chose the Audience RS2 retailing at $700 for my Headphone micro system. I use one of its two outlets to feed my HiFiMan EF-5 amplifier and the other outlet to feed a Revelation 2 power strip. The separate zones on the Revelation 2 feed my computer, monitor, printer and desk light.
The Revelation 2 power strip has 8 high quality outlets with isolated zones to reduce noise and increase efficiency as they suck the power out of the Audience RS2. The power is ready for my most power thirsty component when needed. As power strips without surge protection go, Revelation 2 is outstanding.