CCAC Reviews Code Talker Medals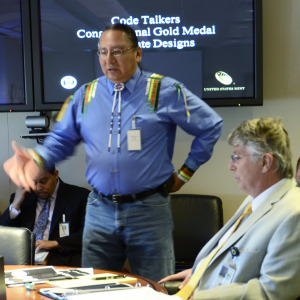 At its meeting in Washington on Tuesday, June 26, the Citizens Coinage Advisory Committee of the United States Mint considered candidate designs for four medals in the Code Talkers Recognition Congressional Medal Program. Congress awarded these medals "in recognition of the dedication and valor of Native American code talkers during World War 1 and World War 2."
Lyle Cook, liaison to the Choctaw Nation honored the Committee by sharing part of his heritage in song and drum. Several Mint employees on the third floor came to the door, perhaps thinking the CCAC members who are known for passion and extensive debate had gone a bit too far this time.
Cook discussed the proposed design of the medal and shared some stories from the rich history of his tribe. He discussed the importance of the buffalo and recounted the vast lands his people once occupied. He also talked about his own heritage and told the story of his great grandfather who fought at Little Big Horn.
The CCAC voted resoundingly in support of the medal design recommended by the Choctaw Nation. One Committee member called the obverse design, "stunning." Most agreed that the reverse design was "clean" and would look good when struck.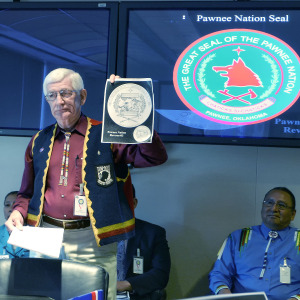 The Pawnee Nation also sent a representative to the CCAC meeting to advocate for designs for their Code Talker medal. Charles LoneChief, Vice-President of the Pawnee Business Council, forcefully argued in favor of the medal design his elders had selected. He showed the Pawnee flag and explained the symbolism on it and the importance of the wolf. The wolf is featured in three dimensional form on the reverse of the medal recommended by the CCAC.
Unfortunately, the CCAC did not agree with the recommended design for the obverse of the medal. Instead members supported the Indian portrait with arrows below the bust. While it is a more striking and original design, it left LoneChief to go back to his elders and explain the Committees preference.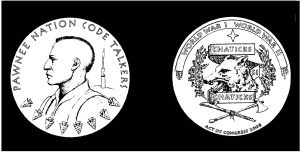 The CCAC reviewed designs at the June 26 meeting for the Cheyenne River Sioux Tribe and the Osage Nation. Additional medals remain for future review. In order for the US Mint to strike a Congressional gold medal, the design must be reviewed by the CCAC and the Commission on Fine Arts. The Secretary of the Treasury makes the final decision.