Book Preview: Encyclopedia of Coin and Medal Technology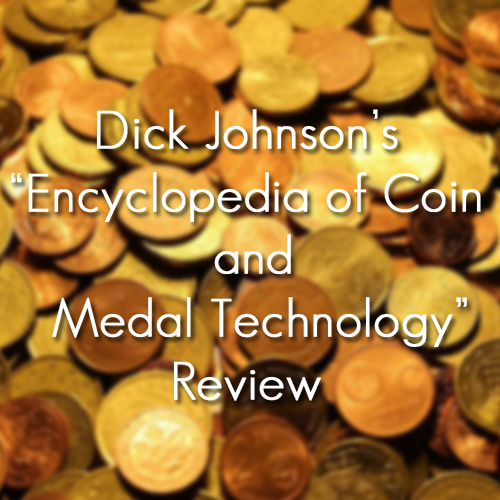 Dick Johnson's new book project is generating a lot of buzz, and it's not even finished yet. The ambitious Encyclopedia of Coin and Medal Technology will be the definitive reference book on the subject for the next century and will be impossible to surpass, ever!
The book is best described as a "tome," already topping out at 671 pages. The finished book will be compromised of two volumes, with a third volume, featuring a Study Guide, numerous appendices, and an extensive index, available as an optional purchase.
Inside the book, readers will literally find "everything anyone would ever need to know" about die-struck coins and metals. While each term is extensively explained, the entries go beyond what readers would expect from a traditional encyclopedia. Johnson explains how each device or process works and often inclusdes the backstory of how it developed.
The depth of knowledge presented in the book reflects Johnson's distinguished resume. In addition to being a collector for more than 70 years, Johnson served as Coin World's first editor, worked as a medal manufacturer at Medallic Art Company for a decade, owned his own auction firm, and worked as a curator at the Belskie Museum of Art and Science. His is currently the Corporate Historian at Medallic Art Company.
According to Johnson, he began to work on the project after retiring from the auction business. "The handful of terms grew to 1,854 which covers how coins and medals are designed and made, the tasks and techniques in every step of the process, revealing the tools and equipment plus how they are used. Added to this are the types of numismatic objects, terms associated with collecting, cataloging and curating," Johnson wrote in announcing the new book.
Everyone who has been privileged to preview the Encyclopedia of Coin and Medal Technology describes the book as glowingly and enthusiastically as this reviewer.  Ken Bressett said, "The author has done an extraordinary job capturing so much information, and presenting it in a useful form. It is obviously a labor of love reflecting a lifetime of interest in his chosen field."
Gary Beals, author of Numiscadero the Spanish-English dictionary of Numismatics, was similarly impressed. He wrote: "If you are the kind of person who enjoys saying 'Wow – I had no idea that works that way' this massive book is for you. Dick Johnson sent years preparing it, you will spend weeks reading it."
For just about anyone, a reference book like this is a magnum opus, a lifetime achievement.  For Dick Johnson, this book is one of several such comprehensive projects that could be called Magnum Opii.  Like his Who's Who Among American Medallists just published in 2015, and his Monograms of American Coin and Medal Artists published in 2010, Dick Johnson's work represent the highest achievement in numismatic scholarship.  These books alone insure that Dick Johnson's name will be remembered alongside the greatest numismatists of all time.
The finished book will include 935 photographs, 772 drawings, and additional illustrations.
Johnson has released the encyclopedia in a preprint, manuscript draft format with hopes that the presales can help fund the illustrations.
To receive the preprint manuscript, send your check of $100 or more and your mailing address to Dick Johnson, 139 Thompson Drive, Torrington, CT 06790-6646.