The Best Hotels in Washington, D.C. For Cherry Blossom Season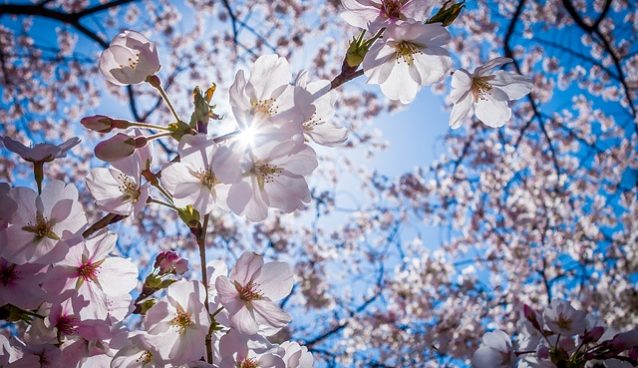 Even though it is still cold in most parts of America, the few nice days hint at Spring and thoughts of a visit to Washington DC for the Cherry Blossom season.
It is time to find a good hotel and visit Washington, D.C. for the National Cherry Blossom Festival.  The Festival runs through April 17 and features numerous cultural events, including the Blossom Kite Festival, Southwest Waterfront Fireworks Festival, National Cherry Blossom Festival Parade, and Sakura Matsuri Japanese Street Festival.
With warmer temperatures and sunny skies, it is a great time of year to visit the Lincoln and Jefferson Memorials, Washington Monument, and National Zoo. There are also numerous outdoor activities, such as renting paddle boats in the Tidal Basin or having a picnic in the U.S. National Arboretum. 
With thousands of hotels, motels and inns to choose from, it can difficult to decide where to stay. Below are a few of the best hotels for tourists visiting Washington, D.C.
The Hay Adams: The luxury five-star hotel is located in the Lafayette Square Historic District at 800 16th Street NW. The hotel gets its name from its historic location — the 1885 homes of John Hay and Henry Adams once stood in the same place. St. John's Church, known as the "Church of the Presidents," is located across the street and the White House can be seen from many of the hotel rooms. The boutique hotel features 145 guestrooms, including 21 suites. With regard to service, the Hay Adams was recognized in Travel + Leisure's World's Best Hotels Awards 2015.
The Willard: The historic Willard InterContinental Washington is located at 1401 Pennsylvania Avenue NW. Henry Willard first opened the hotel in 1847, and the present building dates back to 1901. Located just blocks from the White House, the hotel has had many famous guests, including presidents, senators, and foreign dignitaries; Martin Luther King, Jr. wrote his famous "I Have a Dream" speech at the Willard in 1963. The Willard also boasts that every president since Franklin Pierce has either slept in or attended an event at the hotel at least once. The luxury hotel is now part of the Intercontinental Hotels and Resorts, with concierge service and a Red Lane Spa.
The Hotel Monaco: The Kimpton Hotel Monaco is located at the corner of 7th and F Streets NW in Washington, D.C.'s Penn Quarter neighborhood. The high-end boutique hotel is housed in the historic General Post Office building, which was originally designed by the architects of the Washington Monument and United States Capitol. Built in 1839, the building was the first all-marble construction in the city. Kimpton renovated the building in 2002 to include 183 luxury hotel rooms. Condé Nast Traveler named it one of the eighty best new hotels in the world in 2003.