African American Lady Liberty to Grace New Gold Coin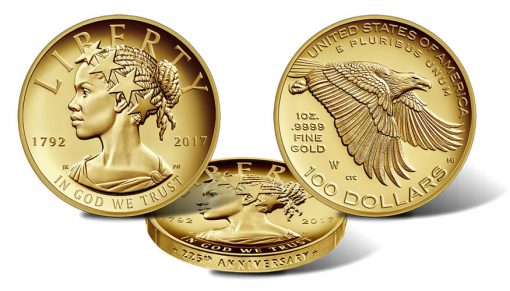 The U.S. Mint recently announced that the 2017 American Liberty 225th Anniversary Gold Coin design will feature Liberty as an African-American woman. The new $100 gold coin joins part of a series of coins depicting Lady Liberty in a new and modern way. 
"Lady Liberty, as depicted in coinage throughout the years, is modeled after our society's continued evolution," Elisa Basnight, U.S. Mint chief of staff, stated. "As we as a nation, continue to evolve, so does Liberty's representation."
Citizens Coinage Advisory Committee members have long advocated the use of symbols more relevant to contemporary Americans.  The concept of Liberty has been depicted on United States coinage wearing flowing gowns, caps, and classical clothes since the 18th Century.  While most other countries have created more 21st century versions of symbols for freedom and liberty for their coinage, United States coins and paper money continue to bear the same designs and concepts lifted from Ancient Greece and Rome with little adaptation for the western hemisphere or the current age.
The United States Mint now have an opportunity to experiment with new designs depicting classical themes such as freedom and liberty.  The 2017 American Liberty is one of those experiments.  As detailed by the U.S. Mint, the obverse (heads) design depicts a profile of Liberty wearing a crown of stars, with the inscriptions "LIBERTY," "1792," "2017," and "IN GOD WE TRUST." It was designed by Mint Artistic Infusion Program (AIP) Designer Justin Kunz and sculpted by Mint Sculptor-Engraver Phebe Hemphill.
The reverse (tails) design depicts a bold and powerful eagle in flight, with eyes toward opportunity and a determination to attain it.  Inscriptions include "UNITED STATES OF AMERICA," "E PLURIBUS UNUM," "1OZ. .9999 FINE GOLD," and "100 DOLLARS." It was designed by AIP Designer Chris Costello and sculpted by Mint Sculptor-Engraver Michael Gaudioso.
"The coin demonstrates our roots in the past through such traditional elements as the inscriptions United States of America, Liberty, E Pluribus Unum and In God We Trust," Rhett Jeppson, principal deputy director of the U.S. Mint, wrote on the U.S. Treasury's blog. "We boldly look to the future by casting Liberty in a new light, as an African-American woman wearing a crown of stars, looking forward to ever brighter chapters in our Nation's history book."
The new coin, which will be released on April 6, 2017, will be struck in .9999 fine 24-karat gold at the West Point Mint in high relief, with a proof finish. It will be sold for approximately $1,500. The U.S. Mint also plans to release a series of silver coins featuring the same designs.
The 2017 American Liberty 225th Anniversary Gold Coin is part of a series of 24-karat gold coins that will be issued biennially. All the coins will depict a more "modern" version of Liberty that reflects the diversity of the country. Per the U.S. Mint, future coins will include designs representing Asian-Americans, Hispanic-Americans, and Indian-Americans, among others.