Austria's Fall of the Iron Curtain 20 Euro Named Best Silver 2014 dated COTY
Austria's 20 Euro commemorating the fall of the Iron Curtain won the Krause Coin of the Year Award in the "Best Silver" category for coins dated 2014. The coin marks the 25th anniversary of the creation of a free, peaceful and united Europe.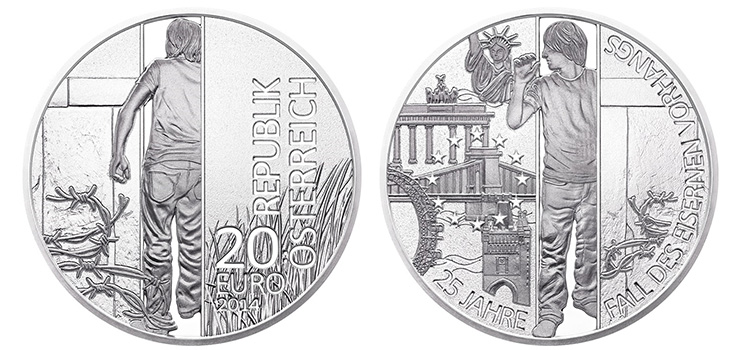 As described by the Austrian Mint, "Austria felt the presence of the Iron Curtain far more than most other western countries, and its fall in 1989 was particularly significant to the Austrians." The silver coin celebrates the 25th anniversary of the fall of the Berlin wall, which remains one of the key events in recent world history.
Designed and engraved by Herbert Wähner, the coin masterfully depicts the same event from two dramatically different perspectives. The obverse depicts a young man escaping from oppression and totalitarianism, as represented by the Berlin Wall and barbed wire. It also included the following lettering: REPUBLIK ÖSTERREICH; 20 EURO; and 2014.
The reverse shows the same man emerging into the "Free World." Famous landmarks standing for the nations involved in the process that led to the end of the Cold War are also featured on the reverse: the Charles Bridge in Prague for the former Czechoslovakia, the Riesenrad Ferris wheel in Vienna for Austria, the Chain Bridge in Budapest for Hungary, Berlin's Brandenburg Gate for Germany and the Statue of Liberty for the U.S.A.
The 32 mm diameter coin contains 0.5209 ounces of silver. It was minted with a proof finish and a reeded edge. It has a mintage of 50,000 coins. The coin is readily available but relatively scarce in certified grades of Proof 70. It can still be found currently available for purchase on the Austria Mint's website.