Athelstan: The Making of England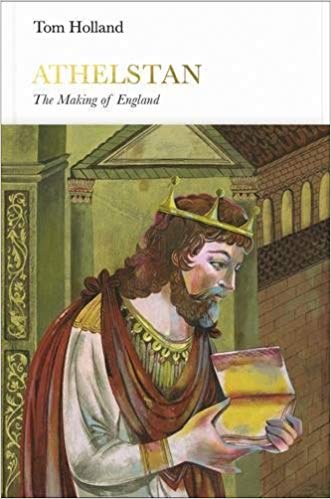 Athelstan: The Making of England by Tom Holland is an excellent short biography of the first king of a unified England. The book is part of the Penguin Monarchs series, which offers expert accounts of England's rulers in a short, highly readable format.
As vividly detailed in the book, the unification of England was a massive achievement, given the country's division into rival kingdoms, the Vikings vicious assaults, and the fact that it was perched on an island at the edge of civilization. Despite these odds, King Alfred the Great battled to preserve Wessex and his son Eadweard expanded it. Alfred's grandson Æthelstan took the final step of uniting Mercia and Wessex and conquering Northumbria. He was the first to hold the title Rex totius Britanniae ("King of England"). As Holland writes:
The story of how, over the course of three generations, the royal dynasty of Wessex went from near-oblivion to fashioning a kingdom that still endures today is the most remarkable and momentous in British history. That Æthelstan, let alone Edward and Ætheflæd, are shadowy figures, with inner lives that are as unknowable to us as the site of Brunanburh, does not render their accomplishments any less astonishing. They and Alfred richly merit being commemorated as England's founding fathers – or, of course, in Æthelflæd's case, as England's founding mother.
The book devotes significant attention to the more well-known figures of British history, including Alfred the Great, Æthelstan's father Edward of Wessex, and his aunt Aethelfleda, the Lady of the Mercians. While they paved the way for Æthelstan, Holland also gives the first British King the attention he deserves but rarely receives. Both a feared warrior and a skilled diplomat, Æthelstan was truly an exceptional king.
Overall, Athelstan: The Making of England provides a comprehensive introduction to the fascinating era of British history. For those interested in learning more, Holland also provides a list of additional sources. Given Holland's skill at writing reader-friendly histories, all of his other books are also worth trying. Rubicon, which details the final years of the Roman Republic, won the Hessell-Tiltman Prize for History and was shortlisted for the Samuel Johnson Prize. Holland's other books include Persian Fire, Millennium, In the Shadow of the Sword and Dynasty.
Athelstan: The Making of England is available on Amazon.com in several forms, including paperback, hardcover, and Kindle.