1849: The Philadelphia Mint Strikes Gold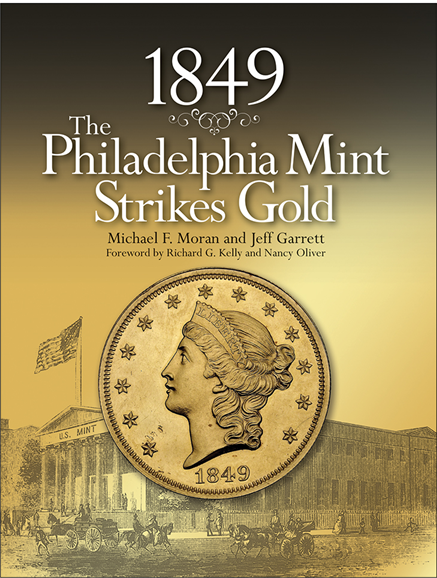 "1849: The Philadelphia Mint Strikes Gold" won the 2016 Numismatic Literary Guild Award.  Michael Moran and Jeff Garrett teamed up to write a book that chronicles how the discovery of gold in California impacted the U.S. Mint and the nation.
"The arrival of Colonel Mason's oyster can full of gold in Washington would change everything in the United States," Moran explains. "It would fuel a rapid industrialization across the Northern states with a supporting rail system. It would leave few institutions untouched, least of all the United States Mint at Philadelphia, which would be shaken to its very foundation and only just barely survive."
The 352-page book features more than 100 stunning full-color images and compelling narrative. Whitman publisher Dennis Tucker describes it as "a treasure for the coin collector, the gold investor, and everyone interested in the fascinating history of the United States."
Moran and Garrett certainly did their homework to provide unique insight into a very important time in the history of the U.S. Mint. From the struggle to convert miners' gold into coins to the political impact of the gold rush, the book tells the whole story in a highly-readable way. For detail-oriented collectors and investors, the authors have also included an inventory of the Smithsonian's gold holdings.
Released last fall, his latest book has been well-received among historians and coin collectors. Richard G. Kelly & Nancy Oliver, numismatic historians praised the book, writing:
A fascinating account of the trying period of the California Gold Rush and its effect on the United States. 1849: The Philadelphia Mint Strikes Gold comes with our highest recommendation. We were genuinely impressed with the depth of the research … written in the style of numismatic history at its best.
For those interested in picking up the book, "1849: The Philadelphia Mint Strikes Gold" is available on Amazon.com and is currently selling for more than 30 percent off the cover price.
Michael Moran is a member of the Citizens Coinage Advisory Committee