US Mint's Apollo 11 Coin Earns Top Honors at 2021 COTY Awards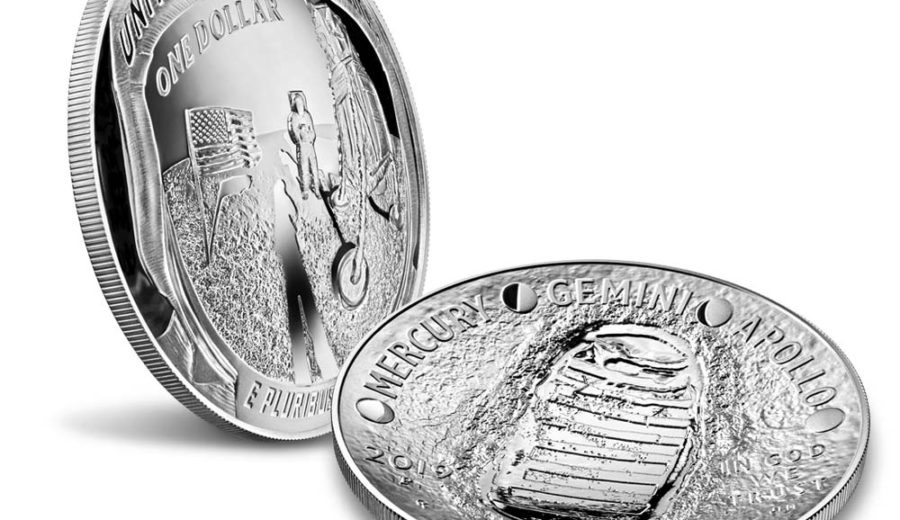 The U.S. Mint's Apollo 11 50th Anniversary Five Ounce Silver Coin was named Coin of the Year at the 2020 Krause Coin of the Year (COTY) Awards. The coin also won the Best Silver Coin and Best Contemporary Event Coin categories.
The COTY Awards program, which is conducted annually by World Coin News, recognizes outstanding coin design and innovation worldwide. The 2021 awards honored coins dated 2019 in ten categories. The Coin of the Year was then chosen from the category winners by a panel of international judges.
The U.S. Mint's award-winning coin was released as part of the Apollo 11 50th Anniversary Commemorative Coin Program, which commemorates the 50th anniversary of the first manned landing on the Moon by NASA's Apollo 11 crew. The four-coin program included a curved gold coin, a curved silver coin, a curved clad coin, and a curved five ounce silver proof coin. The five ounce silver proof coin was the U.S. Mint's first curved five ounce silver coin, which it called "a special achievement in the Mint's technical capabilities."
The obverse (heads) was designed by artist Gary Cooper, who won the design honor through a public competition. Mint Chief Engraver Joseph Menna sculpted the coin. The obverse design features the inscriptions "MERCURY," "GEMINI," and "APOLLO," separated by phases of the Moon, and a footprint on the lunar surface. Together they represent the efforts of the U.S. space program leading up to the first manned Moon landing on July 20, 1969.
The reverse (tails) design features a representation of a close-up of the famous "Buzz Aldrin on the Moon" photograph that shows the visor and part of the helmet of astronaut Buzz Aldrin. The reflection in Aldrin's helmet includes astronaut Neil Armstrong, the United States flag, and the lunar lander. The reverse was designed and sculpted by Mint Medallic Artist Phebe Hemphill, in consultation with NASA.
The five ounce silver proof coin measures 3.000 inches in diameter and weighs 155.517 grams. Mintage is limited to 100,000 across all five ounce proof silver coin product options. Surcharges from the sale of the Apollo 11 coins were authorized to be paid to the Smithsonian Institution's National Air and Space Museum, the Astronauts Memorial Foundation, and the Astronaut Scholarship Foundation for their respective missions, including education and promotion of space exploration.