Third Deluxe Edition of Mega Red Now Available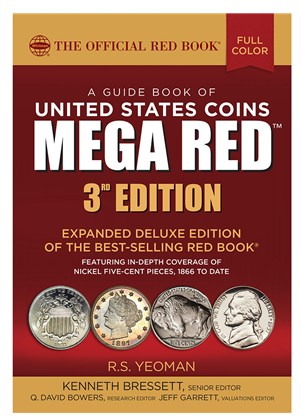 The ubiquitous Red Book is the gold standard for coin collectors. The expanded version, aptly named Mega Red, includes 1,504 pages that are more than 30 percent larger than those in the standard Red Book. The latest version is now on sale.
Mega Red's coverage of American coinage spans from colonial times to the modern day. In addition, the supporting content for each coin is extremely detailed, including both historical information, in-depth grading instructions, and full-color illustrations. The latest edition features a special section on Shield, Liberty Head, Buffalo, and Jefferson nickels.
As highlighted by the publisher, Whitman Books, one of the most interesting features is the section devoted to hobo nickels, which are Buffalo nickels that have been modified by someone outside the U.S. Mint to create a new image. The coins are not only unique, but very collectable. While hobo nickels were most popular between 1910-1940, the folk art dates back to the Classic era. Mega Red includes the photograph of William Sharples (1902–1971), a tool and die engraver from New Jersey. He is the only Class-era hobo nickel carver of whom a confirmed photograph exists. Mega Red also features several coins created by Bertram "Bert" Wiegand and George Washington "Bo" Hughes, who were the most famous carvers of the Great Depression.
Additional new features in the third edition of Mega Red include:
Overview price-guide of foreign coins that circulated as cash in the British American colonies;
Insight and history on modern gold collector coins;
Illustrated history and price guide of So-Called Dollars;
Illustrated history of the nickel five-cent piece, and
Illustrated appendix on the importance of the nickel to 19th- and 20th-century commerce; and
Illustrated essays on the history and value of hobo nickels, love tokens, and chopmarked coins.
Mega Red is an excellent resource for beginner coin collectors. For avid collectors, it is also a wonderful addition to any Red Book collection. Compared to the standard-edition Red Book, Mega Red includes certified population data, more die varieties, more auction records, and more pricing in more grades It also prices more than 8,200 items in up to 13 grades each, with 48,000 individual values, 15,400 auction records, and 7,000 images.
Before purchasing, it is important to recognize that the book is called Mega Red for a reason. The book is massive. It weighs more than six pounds, and measures 7 x 2.6 x 9.9 inches. This is not the type of book you carry around to coin shows.
The list price for Mega Red is $49.95.