The Chord Hugo DAC Delivers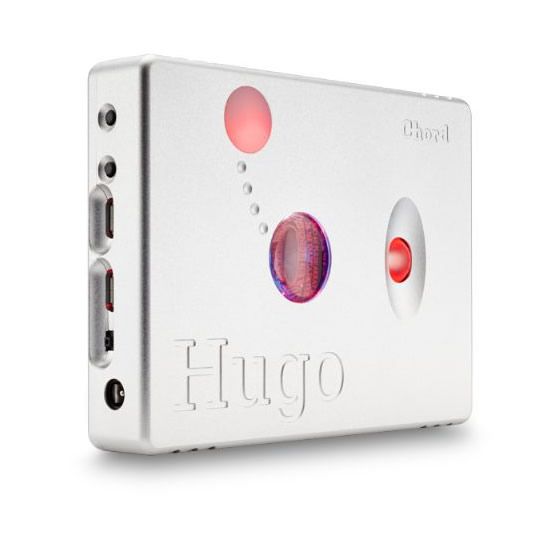 The Chord Hugo is simply the best portable amplifier/DAC on the market.
Whether you use it with your computer or with a portable transport to carry when you are out and about, the Hugo has no equal.
Perhaps the $2,500 retail price is steep for a DAC, but after one listen you will agree that even at this price point the Hugo is a bargain.  It is, perhaps, the only portable DAC that can compete with the sound quality of the top of the line Astell & Kerns Player player which is priced at almost twice this amount.  Even when used with headphones to play digital music files from your home computer, the Hugo has no equal.
Sure, the Hugo is not a transport.  You need a portable digital music delivery device to attach to it in order to play music.  For high resolution files (HRA), either the HiFiMan or the bottom of the line Astell & Kearns player will do the trick nicely as a transport.  To play your ripped CD's (16 bit, 48 Mhz), just use your iPhone and the Apple camera connection kit.
The leather case that is available as an accessory for the Hugo will fit an iPhone 6 comfortably and create a perfectly good portable music rig.  Even though the iPhone 6 will not play high resolution audio, you will not believe the sound that comes out of your iPhone using the Hugo.  It just doesn't seem possible. The Chord Hugo is that good!
Some reviewers have said they thought the Hugo was so good that they can use it as the DAC for a home music system.  Chord has an upgraded model to use for home systems for $1000 more, but the Hugo in a home music system is better than just about any DAC unless you are prepared to spend $6000 on the PS Audio Direct Stream Digital Player (DSD).
Unlike other DAC manufacturers, Hugo Electronics, which is based in the U.K., does not rely on third party chips. Instead, it uses its proprietary FPGA (Field Programmable Gate Array), which is an advanced programmable circuit that Hugo claims allows its engineers "extraordinary control over sound quality and measured performance."
The state-of-the-art DAC technology decodes up to 384 kHz/24 bit PCM and DSD128 files and delivers impressive sound that can't be found in rival devices. Not surprisingly, the Chord Hugo has won numerous awards, including the "Best DAC" in the prestigious What Hi-Fi? Sound and Vision 2014 Awards.
As What Hi-Fi? Aptly wrote, "How it has managed to squeeze so much into such a compact box, without sacrificing an ounce of sound quality, is nothing short of astounding – we can't remember a time we enjoyed digital music more."
The reviewers at HiFi Choice agreed: "Sounding like no other digital converter Chord's headphone amp is a landmark product."
With regard to versatility, the Chord Hugo has five digital inputs, including optical, coax and twin USB inputs, and aptX Bluetooth. It can also connect up to three pairs of headphones using two 3.5mm and one 6.3mm jacks.
For traveling, you can't beat the Chord Hugo. It measures 3.75 x .75 x 5.2 inches, weighs less than one pound, and is comprised on airplane-grade aluminum. In addition to be compact and durable, it provides up to ten hours of listening on a single two-hour charge. At home, you can connect the DAC directly to your hi-fi systems and use it as a high-quality digital preamp.
The Hugo Chord sells for $2,495. Although not available on Amazon.com in the United States, you can find it at a variety of other online retailers.