Karim Abdul-Jabbar Appointed to CCAC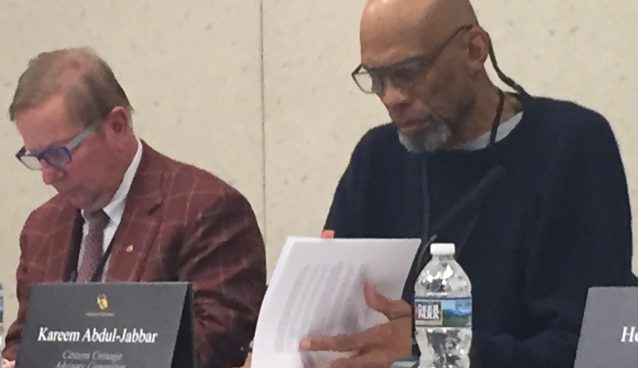 Author and Hall of Fame basketball player Kareem Abdul-Jabbar is the latest member of the Citizens Coinage Advisory Committee (CCAC).  While many Americans know him as an author or as an NBA legend, the coin collector community knows him as a collector of 1850 to 1866 Coronet, No Motto gold $20 double eagles and pioneer gold coins.
"The first coin I purchased was a ten dollar 1799 Eagle MS 64. I liked it because it was the largest denomination of American currency [in its day] and I still have it." Abdul-Jabbar said.
His favorite double eagle is the 1861-O Coronet.  "No one knows if they were made by the U.S. government, the State of Louisiana or the Confederacy," Abdul-Jabbar said. "I find it interesting because the Federal Mint in New Orleans struck U.S. coins until Louisiana seceded from the Union."
"After Louisiana left the Union they joined the Confederacy and continued to make Type 1 double eagles. This is the kind of mysterious back-story that intrigues collectors. It could be the basis for a mystery novel or another National Treasure movie."
Abdul-Jabbar is most famous for being the NBA's all-time leading scorer. He scored 38,387 career points while playing for the Milwaukee Bucks and the Los Angeles Lakers. Since retiring in 1989, Abdul-Jabbar has used his celebrity status to further a number of worthy causes. His work to promote social justice earned him the Presidential Medal of Freedom in 2016.
Abdul-Jabbar currently serves as the chairman of his Skyhook Foundation. Named for his famous basketball shot, the foundation's mission is to "Give Kids a Shot That Can't be Blocked" by bringing educational opportunities to under-served communities through innovative outdoor environmental learning. He is also a frequent guest columnist for both The Washington Post and Time Magazine.
What many don't know is that Abdul-Jabbar is also an avid coin collector. According to a U.S. Mint press release, the NBA start became interested in numismatics based on his love of history and his study of Alexander Hamilton.
Congress established the CCAC in 2003 to advise the Secretary of the Treasury on the themes and designs of all US coins and medals. Members weigh in on theme or design proposals relating circulating coinage, bullion coinage, Congressional Gold Medals and other medals produced by the United States Mint. The CCAC also makes commemorative coin recommendations to the Secretary and advises on the events, persons or places to be commemorated, as well as on the mintage levels and proposed designs.
The CCAC is comprised of 11 members, which serve a four-year term. The committee is designed to be diverse; one member must be an expert in art, one an expert in history and at least one an expert in numismatics. Abdul-Jabbar is one of several members representing the general public. He fills the vacancy created this year by the resignation of Coin World editor-at-large Steve Roach.