The Haitian Mango is in Season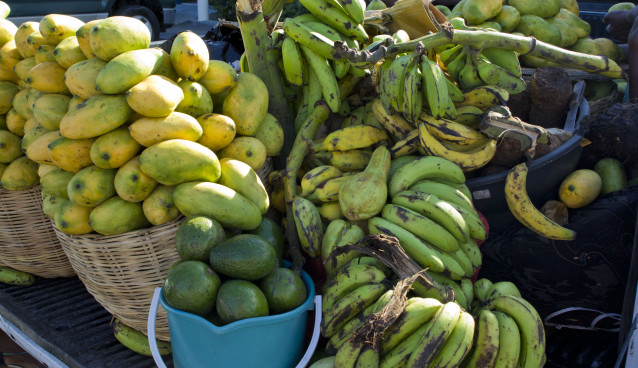 Mango ice cream does not taste like the mangoes you buy in the grocery store.  That's because the mangoes sold all year in supermarkets come from Ecuador or Peru.  The taste of Mango's memorialized in ice cream is grafted from the Haitian mango, not the South American mango.
Mangoes from Haiti can be bought on fruit stands in many North Hudson communities, especially Union City and West New York.  You can also find them in some grocery stores in New York City or in specialty stores.
You can tell a Haitian mango from its yellow and green color.    The more yellow they are, the better.  Generally, they are best eaten when they are a bit soft.   While you can buy them for ten cents each in Haiti, expect to pay more than $2.00 in the Caribbean and even more in the United States.
The Francis Mango
While native to Southeast Asia, there are more than 1,000 different varieties of mangoes grown around the globe. The fruit grows well in hot and dry locations, making it perfect for the Caribbean. The Haitian variety, is called the Francis or Francique.  It has a bold flavor, which is both sweet and slightly spicy.
Haiti grows mangoes year round. However, peak harvesting season for the Francis, which features yellow-green skin and a bright orange flesh, is typically from March to June. While a decade ago, you could only find the Francis mango at fruit carts and produce shops, U.S. grocers like Whole Foods now regularly stock it in the spring and early summer.
Mango Exports Aid Haitian Economy
Haiti is the poorest nation in the Western Hemisphere.  It receives millions of dollars in aid.  Some of that aid goes to creating food crops and opening international markets for them.  Spirulina and the native mango may actually hold the secret to establishing economic self-sufficiency.
The Francis is becoming increasingly popular. To meet demand, the island nation is working to increase the exports of a fruit that is largely grown by families across the island. Non-profit organizations working in Haiti are hopeful that boosting mango production among these small, rural farmers can help reduce poverty and address the country's ongoing hunger crisis.
Haiti produced 261,000 metric tons of mangoes in 2005.  By 2007, mango exports brought $7.9 million into the Haitian economy.  That number exceeds $10 million today according to estimates by the National Bank of the Republic of Haiti.
While there is little shortage of mangoes in Haiti, the country has struggled to supply large volumes of quality mangoes for export. To help modernize the industry, non-profit groups have been working to provide training for mango farmers, harvesters and traders. In 2013, the Haitian mango industry was able for the first time to supply Whole Foods Market with 50 percent more than its minimum requested quantity of fruit.