Great Britain Wins Best Circulating Coin for 2014 dated COTY
Great Britain won "Best Circulating" Coin dated 2014 in the Krause Coin of the Year Awards for its bimetallic 2-pound featuring the iconic depiction of Lord Kitchener on a World War I recruiting poster (KM# 1279). This was the first coin in a five-year series marking the outbreak of the First World War.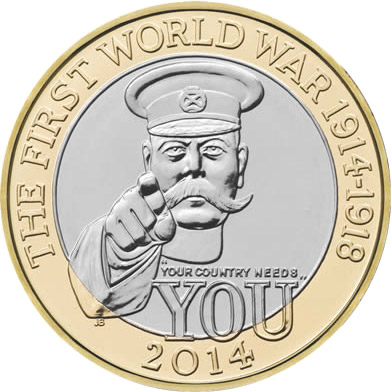 The coins series depicts the course of World War I. "For over 1,000 years, The Royal Mint has been producing British coins that have recorded the passing of history, documenting changes in monarchs, customs and national themes. This series captures the emotive wartime journey from outbreak to armistice," Shane Bissett, The Royal Mint's Director of Commemorative Coin, Medals and Bullion, said.
The inaugural coin in the series was designed by sculptor John Bergdahl. The obverse depicts a World War I recruitment poster featuring Field Marshal Horatio Herbert Kitchener, who played a pivotal role in organizing the largest volunteer army that Britain had ever seen. As described by the Royal Mint:
The coin remembers one of the most significant moments in British history with a design that recalls the spirit, and with hindsight, the poignancy, of the rush to enlist encouraged by Lord Kitchener. In 1914 Lord Kitchener was appointed to mastermind a recruitment campaign that would go on to create one of the largest volunteer armies ever known in Britain. Though many posters encouraged the men of Britain to enlist, the image of Kitchener himself came to stand for the call to fight for 'King and Country' that saw men respond in their thousands.
Under Lord Kitchener's portrait, the text "YOUR COUNTRY NEEDS YOU" is also included. Around the primary design is the text "THE FIRST WORLD WAR 1914-1918."
The obverse of each coin in the First World War features the current coinage portrait of Her Majesty the Queen by Ian Rank-Broadley FRBS. The edge of the coin is milled. It features the following inscription: "The lamps are going out all over Europe."
The outer ring is comprised of nickel-brass (76% copper, 4% nickel, 20% zinc), while the inner coin is Cupro-nickel (75% copper, 25% nickel). It weighs 12 grams and measures 28.4mm in diameter. The mintage of the 2-pound circulating coin was 5,720,000. Some of these coins have a proof like strike.
In addition to the circulating coins, 5,000 proof coins were struck and 2500 Silver proof Piedfort coins with double thickness were struck in an edition of 2500. An edition of 500 platinum coins with a face value of 100 pounds of this same design were struck as well.