Paris Mint's "Fall of Berlin Wall" Coin Named Most Artistic at 2021 COTY Awards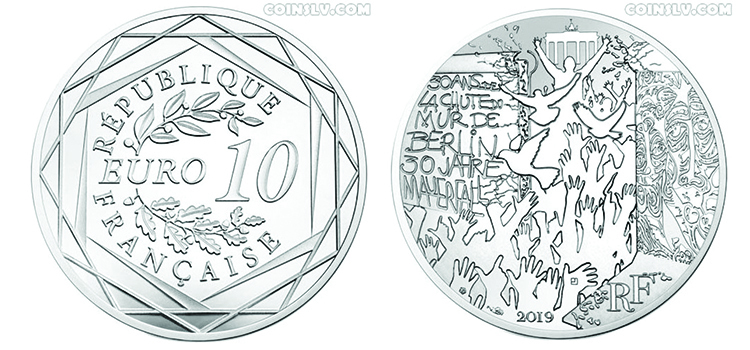 The Monnaie de Paris (Paris Mint) won the Most Artistic Coin category at the 2021 Coin of the Year (COTY) Awards with its 10 EURO silver coin commemorating the fall of the Berlin Wall. The shaped coin, dated 2019, features an optical illusion.
As the name suggests, the Fall of Berlin Wall coin celebrates the 30th anniversary of the Berlin Wall's fall. The wall separated the City of Berlin into East and West for more than 28 years. The wall came to symbolize the separation created by the Cold War between the Soviet Union and the United States.
Out of the many commemorative coins featuring the fall of the Berlin Wall, the optical illusion makes the Monnaie de Paris coin unique. While it is struck on a flat flan, the L-shape makes it appear three-dimensional. When looking at the coin straight on, it appears to have been struck to stand up on its end like a section of Berlin Wall.
The obverse of the coin shows the Brandenburg Gate, previously on Germany's East side, crowned by the quadriga of the Greek goddess of Victory. As highlighted by the Paris Mint, the gate is one of the strongest symbol of Berlin and of Germany. In the center, a soldier holding a rose, goes through the wall, representing the fall of the wall. "Berlin" is written in a tag way on the wall. Below the coin, "30 Jahre Mauerfall" is written, which means 30 years of the Fallen Wall.
On the reverse, "30 ans de la Chute du Mur de Berlin 1989-2019" is written in a font designed to mimic the graffiti that covered the wall. The face value and the RF inscription also appear.
The coin, which is part of the Paris Mint's "Great Dates in The History of Humanity" series, measures 37.000 mm in diameter and weighs 22.2 grams. Mintage was limited to 3,000 coins, and the coin is now sold out at the Monnaie de Paris.