China's Art of Chinese Calligraphy Wins Best Gold Coin in 2021 COTY Awards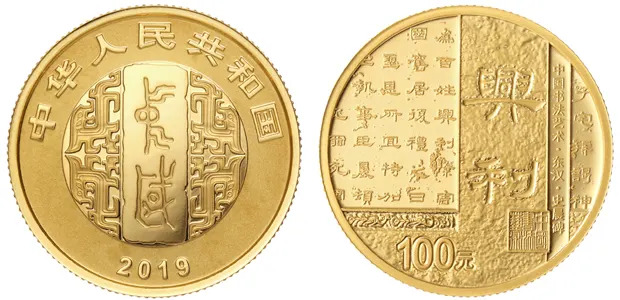 China won the Best Gold Coin Category in the 2021 Coin of the Year (COTY) Awards. The category honors coins manufactured from gold, platinum, palladium or another exotic precious metal, which have all-around artistic appeal, both from aesthetic and a commercial standpoint.
The 2021 COTY winning coin honors the art of Chinese calligraphy, the stylized artistic writing of Chinese characters that has been considered supreme among the visual arts in China for centuries. The gold coin, dated 2019, is part of a set of gold and silver commemorative coins for the Art of Chinese Calligraphy (Official Script). The set of coin consists of five coins, including a gold coin and four silver coins, all of which are the legal tender of the People's Republic of China.
All of the coins in the series share a common obverse design. It includes the bronze inscription 中国 (China), the decorative design of bronzeware motifs, the title of P.R.C., and the year date.
The reverse of the round gold coin features part of the inscription Shi Chen stele of the Eastern Han Dynasty, in particular the words xing li (benefiting the people), the decorative design from Han Dynasty pictorial brick, the steal stamp "the Art of Chinese Calligraphy," the words "the Art of Chinese Calligraphy, the Eastern Han Dynasty, Shi Chen Stele," and the face value.
The gold coin is proof in quality, 22mm in diameter, 100 Yuan in face value, 99.9% in fineness and contains 8 grams of pure gold. The total mintage is 10,000 pieces. The Art of Chinese Calligraphy coins were minted by Shenzhen Guobao Mint Co., Ltd and Shanghai Mint Co., Ltd, and solely distributed by China Gold Coin Incorporation.