Caribbean Nations Devastated by Hurricane Irma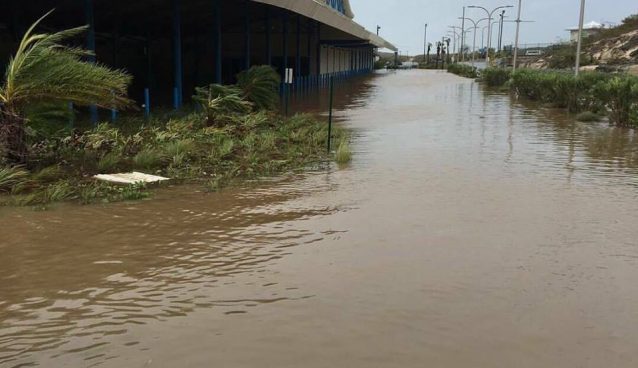 When hurricanes hit the United States, they are major news events; but when they destroy Caribbean nations, even online Internet news about them is scarce. In the Caribbean islands devastated by Hurricane Irma, at least 14 people have died, with the death toll rising as rescue teams move into the hardest hit areas.
The islands of Barbuda and St. Maarten both took a direct hit from the Category Five storm, with as much as 90 percent of the structures destroyed. In Barbuda, 60 percent of its approximately 1,400 residents were left homeless. According to St. Maarten's Dutch prime minister, Mark Rutte, the storm caused wide-scale destruction of infrastructure, houses and businesses. "There is no power, no gasoline, no running water. Houses are underwater, cars are floating through the streets, inhabitants are sitting in the dark in ruined houses and are cut off from the outside world," Rutte said.
The Turks & Caicos Islands were also battered by the storm, which brought 20 foot waves and powerful winds. The storm tore off roofs, downed trees, and snapped utility poles. In the wake of the storm, most of the T&C Islands experienced a total blackout of electricity and communication.
Before the storm hit, forecasters were predicting 30 foot swells.  The island of Providenciales, the most populated island of Turks & Caicos, is only 27 feet high at its highest point.  So, while American's living in Florida can always find higher ground, those who live on Caribbean islands like Turks & Caicos cannot.
While many tourists evacuated before Hurricane Irma hit, many either chose to stay or were forced to ride out the storm. Some tourists have posted videos of their harrowing ordeals on social media; however, worried families and friends have been unable to reach others. Three days after the storm hit, 6,000 Americans were still stranded on St. Martin, where supplies are dwindling and looters are roaming the streets.
The British, French, and Dutch militaries are rushing supplies to their island territories. Nonetheless, the recovery is expected to take many months, if not years. The destruction caused by Hurricane Irma is not only devastating for the islands' residents, but will significantly impact their economies, which are almost wholly reliant on tourism. In St. Maarten, the island's main airport and cruise ship terminal sustained heavy damage. The Providenciales International Airport in Turks & Caicos suffered severe flooding and remains closed.
Many resorts throughout the Caribbean also suffered extensive damage and have cancelled reservations through at least the end of the year. In Turks and Caicos Islands, the clean-up and rebuilding process will hopefully proceed quickly and allow most resorts to open in time for the height of the winter tourism season.