Burn Your Books and Buy an Ipad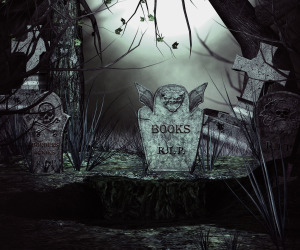 The book publishing industry as we once knew it is dead.  E-books and on line information is more readily available, offers more variety, can present information in a multimedia format and is generally less expensive and requires no bookshelf space.
For a glimpse at the future, (if you decide to buy an Ipad) take a look at two iPad apps in particular:  T.S. Eliot's, Waste Land and Explore Shakespeare.
The first application, created by Faber & Touch Press, quickly rose to the top of Apple's featured list after receiving high acclaim from both the literary and technology press. The app includes analysis and interactive details as well as an audio reading of the poem.
For less than the price of the book, the reader gets the poem plus the analysis of thirty-five (35) literary experts and hyperlinked notes that explain the poem's many references in a simple click. For antiquarians and serious students, the app includes a reproduction of the original manuscript.
The developers of the T.S. Elliot app told the editors of The Guardian that the number of downloads well surpassed their expectations.  This suggests a bright future for other projects like this.
"The most pleasing thing is that we have earned out – we're in profit now," Henry Volans, head of Faber Digital, told the Guardian. "We planned for it to take a year to earn out, but in the event it happened in about six weeks."
The Explore Shakespeare app has attracted its own level of success following the release of Romeo and Juliet and Macbeth. The app provides in-depth plot summaries and also provides audio performances from famed actors, including Michael Sheen. Perhaps more impressively, the application is equipped with interactive tools and activities for readers of every literary level in an effort to help them better understand and appreciate Shakespeare's works.
As iPads continue to find use everywhere from classrooms to offices, the technology may provide a more affective and engaging way for people to read and learn.  At the very least, an iPad requires no bookshelf space and allows you to take your entire library with you anywhere you go.