Committee to Select Designs for Breast Cancer Awareness Commemorative Coin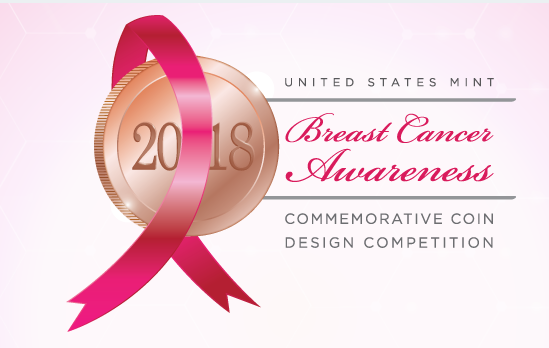 A special committee will select the designs for the Breast Cancer Awareness Commemorative Coin, which are intended to raise breast cancer awareness, along with millions of dollars for research.
President Obama signed the Breast Cancer Awareness Commemorative Coin Act into law on April 29, 2016. The legislation directs the U.S. Treasury to issue up to 50,000 $5 pink gold coins, up to 400,000 $1 silver coins and 750,000 half-dollar clad with a design to symbolize the fight against breast cancer in 2018. The proceeds of the sales of the commemorative coin will benefit the Breast Cancer Research Foundation.
While one in eight women will develop breast cancer during her lifetime, the chance of dying from the disease is now about one in 36, thanks to improved detection and treatment. "It is estimated that over 231,000 new cases of breast cancer will occur in the U.S. in 2015, and tragically 40,000 women will die from it," Sponsor Rep. Carolyn B. Maloney (D-NY) stated. "Breast cancer is the second leading cause of cancer death in women, and the only way for us to eradicate it is through research to find a cure and increased awareness and screenings."
Pursuant to the Breast Cancer Awareness Commemorative Coin Act, the designs will be judged by "an expert jury chaired by the Secretary and consisting of three members of the Citizens Coinage Advisory Committee and three members from the Commission of Fine Arts who shall be selected by such Commission." It is the second time that Congress is calling for a special committee to select designs, the first being the World War I commemorative coin.
Also of note, the legislation calls for the Breast Cancer Commemorative coin to be struck in "pink gold" with at least a 75 percent gold composition. While other mints around the world have experimented with pink gold, this coin will be the first for the U.S. Mint.