Bose SoundLink Mini Bluetooth Speaker II Steps Up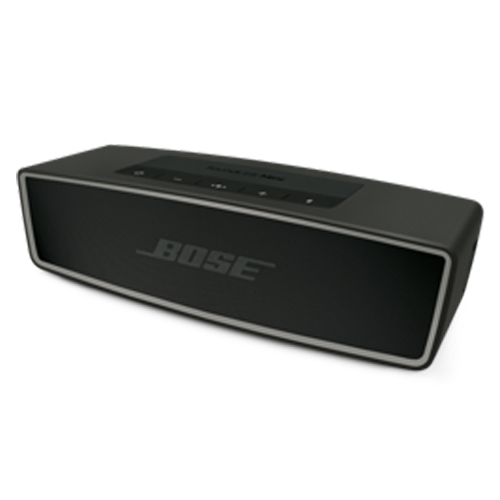 Bose is one of the best in the business when it comes to speakers, so it's hard to ignore the hype surrounding its SoundLink Mini Bluetooth Speaker II. After taking a listen, the praise is well deserved.
The SoundLink Mini Bluetooth Speaker II connects wirelessly to any Bluetooth enabled device, including phones, laptops, and tablets. Unlike the previous model, you can have multiple devices connected at once. It also has a built-in speakerphone to take calls out loud.
The Bose Mini speaker is also easy to use, even for those that aren't tech-savvy. The device uses voice prompts to walk the user through Bluetooth pairing. From start to finish, it takes less than 30 seconds to start playing your music through the device.
As far as audio quality, it is one of the best among portable speakers. It sounds great throughout the entire frequency spectrum and delivers a powerful bass from such a small system. The larger and more expensive Bose SoundLink Bluetooth Speaker III sounds crisper, particularly at higher volumes, but there are of course tradeoffs in cost and portability.

At home, the SoundLink Mini Bluetooth Speaker II sits in a charging cradle. It also comes with a Lithium-ion battery allows up to 10 hours of unplugged use. Unlike the prior model, the Mini II uses a micro-USB input rather than a bulky AC adapter.
One of the best features is that the speaker is compact and portable, measuring 2 inches x 7.1 inches x 2.3 inches and weighing just 1.5 pounds. While Bose says the Mini II is small enough to place in your pocket, it may be more realistic to carry it in your purse, briefcase, or backpack.
The SoundLink Mini Bluetooth Speaker II sells for $199 and is available in stores, from Bose directly or, of course, on Amazon.com. It comes in two color choices: carbon and pearl. Bose also sells soft covers that come in several colors to customize the appearance of the speaker while also protecting the outer case from getting scratched or dinged.