Hurricane-Battered Turks & Caicos Open for Tourist Season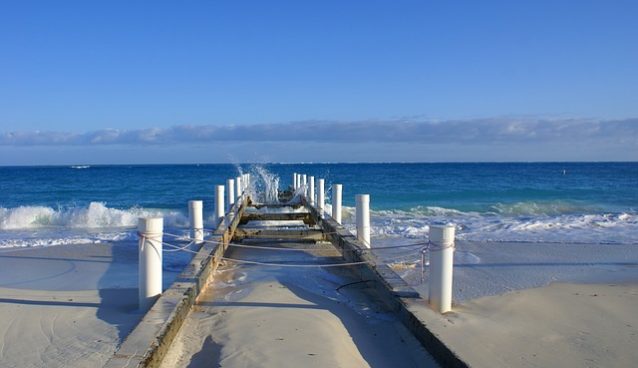 The Turk & Caicos Islands got hit with the one-two punch of Hurricanes Irma and Maria. In good news for both tourists and T&C businesses, the recovery efforts have proceeded quickly in most areas. The majority of restaurants and resorts will be open for the busy winter season.
Hurricanes Ravage Tourist-Dependent Caribbean
Hurricane Irma made landfall on the Turks & Caicos Islands as a Category 5 Hurricane. It was the strongest storm to hit the islands in recorded history. The storm tore off roofs, downed trees, and snapped utility poles. Given that most of the islands are not very high above sea level, flooding from the rain and storm surge also caused significant damage. Hurricane Maria closely followed, battering the islands with winds of up to 125 mph.
Like many Caribbean islands, the 40 islands that comprise Turks and Caicos rely heavily on tourism. In fact, it accounts for 85 percent of T&Cs direct and indirect GDP. In the wake of the storms, the Caribbean tourism industry is afraid that travelers may mistakenly believe that all of the islands are out of commission. 
"We need people to be part of this economy," Nikheel Advani, chief operating officer and principal of Grace Bay Resorts in Turks & Caicos, told Bloomberg. His resorts made it through largely unscathed with only cosmetic damages. "In the news, everyone is saying that the Caribbean is closed. Taking away the fear right now is key."
In Providenciales, the Grace Bay Resort banded together with nearby resorts Gansevoort, Amanyara, and the Palms to provide meals for locals impacted by the storms. Advani also launched a GoFundMe campaign, which will help hotel staff members rebuild their homes. To date, it has already raised more than $26,000. 
To help the entire region recover quickly, hotels and other tourism companies are also working together to encourage travel to unaffected areas and raise money to help the remaining islands get back on their feet. "It's all one economy. Providenciales is going to help Grand Turks. Tourism revenues in Antigua will help Barbuda. There's a ripple effect here that's very important," explained Ovation Travel President Jack Ezon.
Turks and Caicos Back in Business 
As the winter tourist season approaches, the Turks & Caicos Islands are largely open for business. The Grand Turk Cruise Center will be ready to receive ships in November, and most of Providenciales is operational. Below is a list of T&C hotels that are currently open or expected to open soon:
| Resort Name | Re-Open Date |
| --- | --- |
| Alexandra Resort & Spa | Nov. 15 |
| The Atrium | Open |
| Caribbean Paradise Inn | Open |
| Grace Bay Suites | Open |
| The Somerset | Open |
| La Vista Azul | Open |
| Windsong | Open |
| The Sands | Open |
| The Shore Club | Open |
| The Palms | Open |
| The Regent Grand | Open |
| Grace Bay Club | Open |
| Reef Residences | Open |
| The Tuscany | Open |
| The Venetian | Open |
| Villa Del Mar | Open |
| West Bay Club | Open |
| Gansevoort | Open |
| Villa Renaissance | Open |
| Ocean Club West | Open |
| Beach Enclave | Open |
| Blue Haven | Nov 1 |
| Coral Gardens | Oct 16 |
| Amanyara | Dec 15 |
| Parrot Cay | Dec 15 |
| Pelican Beach Hotel | Oct 21 |
| Ports of Call | Nov 25 |
| Point Grace | Nov 16 |
| Royal West Indies | Nov 1 |
| Meridian Club | Nov 1 |
| Ocean Club | Nov 20 |
| Club Med Turkoise | Jan 31 2018 |
| Beaches | Dec 14 |
| East Bay Resort | Dec 15 |
| Sailrock | Dec 16 |