Barbados "Blue Marble" Coin Named Most Innovative at 2022 COTY Awards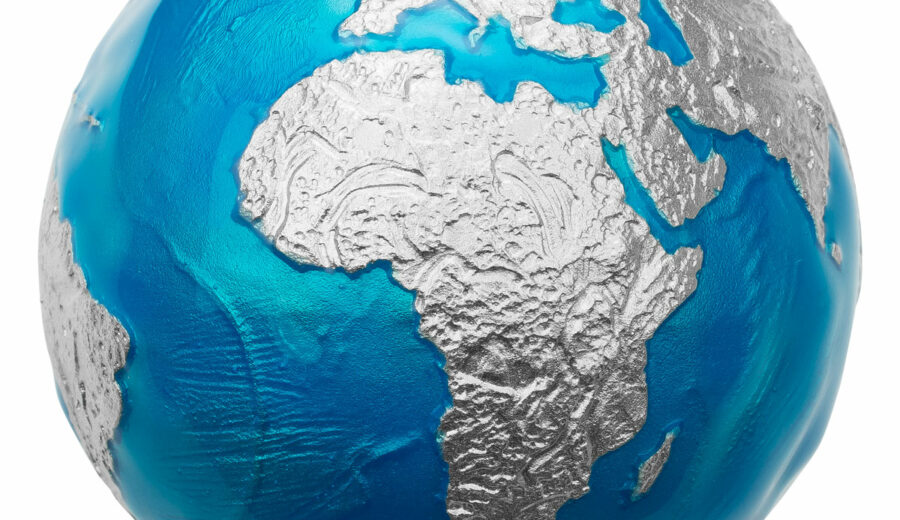 Barbados won the "Most Innovative Coin" category at the 2022 Coin of the Year (COTY) Awards. Its Blue Marble coin, which was minted by Shanghai Jin Jia Medals Ltd., is a spherical coin in the shape of earth.
The reverse of the .999 fine silver coin depicts the earth's continents, which are rendered in silver finish. The oceans, which give the coin its name and cover 71 percent of earth, are created with a stunning translucent blue enamel.
On the obverse, a circular area that bears the same design and detail as would normally appear on the obverse of a coin from Barbados replaces Antarctica at the bottom of the globe. The coat of arms was applied through a highly innovative water transfer print.
A shield that bears a fig tree and two flowers of the Red Pride of Barbados feature on a shield, on which sits a helmet. A dolphin fish and a tailed Gules support the shield. Below is a scroll that bears the country's national motto, "PRIDE AND INDUSTRY." "BARBADOS" is inscribed above the arms, while the date, "2020," is split by them, with the first two digits to the left and the last two to the right. Other inscriptions note the coin's weight, "3 OZ," its face value, "5 DOLLARS," and its purity, "AG 999."
The Blue Marble coin has a face value of $5. The coin weighs 93.30 grams and measures 50 millimeters in diameter. Mintage is limited to 999 pieces.