Axpona 2014: From Turntable to Hi Res Audio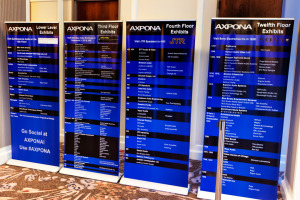 At a show dominated by the excitement of High Resolution (HR) audio and the delivery systems that are becoming available to play it, VPI introduced a high quality but affordable consumer turntable which might be considered the first of its kind in the post CD era.
The AXPONA audio expo in Chicago is one of the biggest audiophile events of the year.  This year's AXPONA 2014 show dominated five floors of the Westin Hotel in Rosemont, Illinois where dealers, manufacturers and just about everyone involved in the audio industry displayed and demonstrated their products.
VPI introduced the Nomad, an easy to use turntable with a built in phono pre-amp and headphone amplifier.  It is ready to use out of the box with as little fussing as a CD player.  Priced at $1,000, this turntable is aimed at the consumer looking for portability and ease of use without sacrificing quality.
You can set this turntable up on one shelf of your audio rack; or next to the computer you use to listen to High Resolution (HR) audio; or, even in a place by itself next to your record collection.  The Nomad is as simple as music components get.  You don't need to take Michael Fremer's turntable set up seminar or watch YouTube videos about how to set up your turntable and hope you got it right.  Just plug the Nomad into a power outlet, put your headphones on and enjoy the sound of vinyl.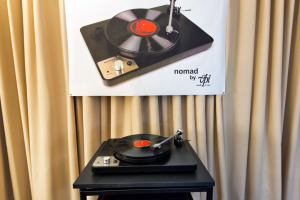 The Nomad is an entry level turntable in every way except for sound quality.  At AXPONA, VPI smartly set up their demonstration model without using the $1,000 plus power cords and connecting cables that make just about any system sound good.  Nor did they use $20,000 speakers in their demo or $1,000 headphones.  VPI made the point that the Nomad can present audiophile sound from vinyl using regular consumer grade accessories.
In addition to new product demonstrations including some amazing new speakers, the buzz about High Resolution (HR) Audio dominated the show.
Mark Waldrep, CEO of AIX Records gave a talk about high resolution (HR) audio and a demonstration of just how good properly recorded music can sound.  Dr. Waldrep, the foremost authority and advocate of HR staged a live performance of John Gorka next to his AIX HR recording of John Gorka played through German Physiks,  Emperor MK 11 speakers.  With eyes closed it was impossible to tell the difference between the live performance and the recording.
The CEO of Pono, John Hamm, demonstrated his company's new delivery device for HR audio to a packed room of enthusiasts and Kickstarter investors in PonoMusic, Inc.  The device will be ready for delivery by the end of 2014 and priced at under $400.  Hamm announced that many recording companies have opened their master tape vaults to allow the digital 24 bit format to be sold.
Hamm clarified that the Pono device will allow playback for all HR formats currently sold on web sites like iTrax.com and HDTracks.com.  "It will not be necessary to buy HR albums on the Pono web site in order for the Pono player to deliver it," he said.
Neil Young, who has been the driving force behind Pono and HR audio, was performing in downtown Chicago concurrent with AXPONA.