Austria's Big Data Coin Wins Best Bi-Metallic Category at 2022 COTY Awards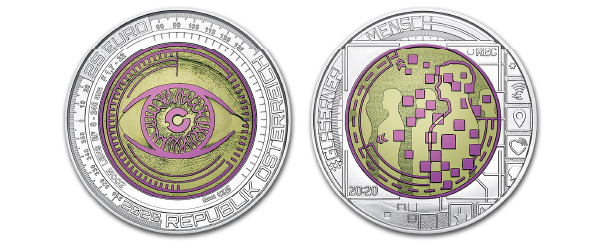 The Austrian Mint won the Best Bi-Metallic category at the 2022 Coin of the Year (COTY) Awards. It Big Data coin, dated 2020, is part of the mint's Silver Niobium series.
The coin's design symbolizes man under permanent surveillance. As described by the Austrian Mint:
The Internet creates infinite possibilities and gives instant explanations by placing the world at our fingertips. But while surfing the net we leave visible traces that businesses use to learn about our individual preferences by analyzing the resulting large data sets, meaning that users lose their privacy and autonomy. Big Data, the latest edition in the best-selling Silver Niobium series, highlights the dangers and disadvantages of the digital revolution.
The Big Data coin was designed by Mag. Helmut Andexlinger and Herbert Wähner of the Austrian Mint. In its niobium core, the obverse of Big Data features a human eye that represents surveillance on the one hand and the biometric method of iris recognition on the other, while the silver outer ring is designed like a camera lens.
The reverse of the coin shows people under surveillance, which is recognizable from the 20:20 running time on the left edge of the outer silver ring. In the foreground of the niobium core, one of a number of human silhouettes is peppered with squares that symbolize the personal data collected about that person.
The Big Data coin measures 34 mm in diameter and weighs 6.50 grams. Mintage of the coin is 65,000.