Australia Wins "Most Inspirational" for 100th Anniversary of the End of World War I
Australia's Perth Mint won the "Most Inspirational" coin category at the 2020 Coin of the Year (COTY) Awards. The award-winning coin, dated 2018, commemorates the end of World War I.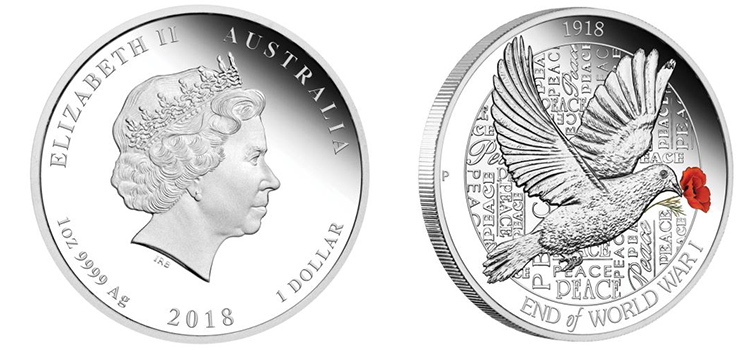 World War I caused widespread devastation across Europe, killing millions of civilians. The four-year conflict ended on at 11am on November 11, 1918, which became known as Armistice Day. The war officially came to an end with the signing of The Treaty of Versailles on June 28, 1919.
As described by the Perth Mint:
The bloodshed of World War I ended in 1918 at the 11th hour of the 11th day of the 11th month. To mark the cessation of hostilities 100 years ago, The Perth Mint offers this carefully considered numismatic tribute honouring the courage and sacrifice of those who suffered the conflict's unremitting brutality at Gallipoli, in the Middle East and on the Western Front.
Designed by Aleysha Howarth, the coin's reverse portrays a dove, which has become an international symbol of peace. In its beak, the bird is carrying a red poppy, another poignant symbol. Red poppies were the first flowers to bloom in the devastated battlefields of Western Europe and are now linked with European remembrance ceremonies of World War I. Behind the dove, the word "peace" is written in different fonts. The year "2018" is inscribed at the top of the reverse. The inscription at the bottom reads "End of World War I."
The Ian Rank-Broadley effigy of Her Majesty Queen Elizabeth II is featured on the obverse. The design, which dates to 2018, shows Queen in right-profile relief.
The WWI commemorative coin is comprised of 99.99% Pure Silver. It is Australian legal tender, with a value of $1 (AUD). It measures 40.6 mm in diameter and weighs 31.107 grams. The mintage of the coin is limited to 5,000 pieces.