U.S. Mint Finally Has New Permanent Director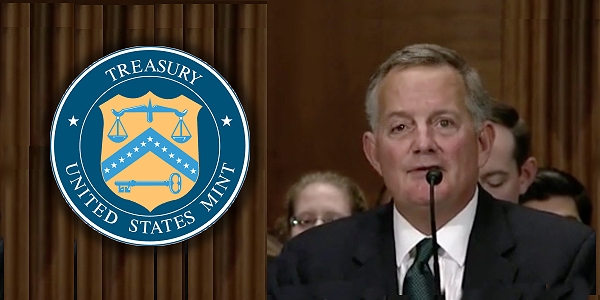 David J. Ryder is now the new Director of the U.S. Mint after being confirmed by the Senate on March 21, 2018. The Mint has not had a permanent director since Edmund C. Moy left it in January 2011.
Long-Standing Vacancy at U.S. Mint 
Ryder will replace Dave Croft, who took over on January 31 when David Motl retired. President Donald Trump initially nominated Ryder for the position on October 3, 2017. While the U.S. Senate Committee on Banking, Housing, and Urban Affairs conducted a confirmation hearing several weeks later. However, the full Senate failed to vote on his nomination before the end of 2017. As a result, President Trump had to re-nominate Ryder, and the confirmation process had to be conducted anew.
Background of David Ryder
Ryder was born in Billings, Montana and raised in Boise, Idaho. He attended Boise State University and is married with two children. He most recently served as Global Business Development Manager and Managing Director of Currency for Honeywell Authentication Technologies, which specializes in anti-counterfeiting technology. Prior to that, he served as CEO of Secure Products Corporation, which was acquired by Honeywell in 2007.
Ryder is also already familiar with the inner workings of the Mint. In 1991, he was nominated by President George H.W. Bush to serve as Director and served from September 1992 to November 1993. His prior government service also includes serving as Deputy Treasurer of the United States, Assistant to the Vice President and Deputy Chief of Staff to Vice President Daniel Quayle.
According to Coin Week, the most recent director to serve two non-consecutive terms was George E. Roberts, the 19th director under President McKinkley (Feb. 1898-July 1907) and the 22nd director under President Taft (July 1910-Nov. 1914). The only other Mint director to serve two non-consecutive terms was James Pollock, the 10th and 13th director under Presidents Lincoln and Johnson (May 1861-Sept. 1866) and President Grant (May 1869-March 1873).
The Industry Council for Tangible Assets (ICTA) released a statement on March 22, 2018, supporting the confirmation. "We welcome the news that the U.S. Senate has confirmed President Trump's nominee, David J. Ryder, as the 39th director of the United States Mint," said Philip N. Diehl, ICTA chairman and a former Mint Director. "It's hard to imagine a better qualified appointee. David has served at the Mint before, he knows Washington well, and he brings to the job more than 20 years of experience in the anti-counterfeiting business. We need his leadership at the U.S. Mint as we confront the growing threat coin counterfeiting poses to the nation," said Diehl.