Ron Dutton Wins FIDEM 2016 Grand Prix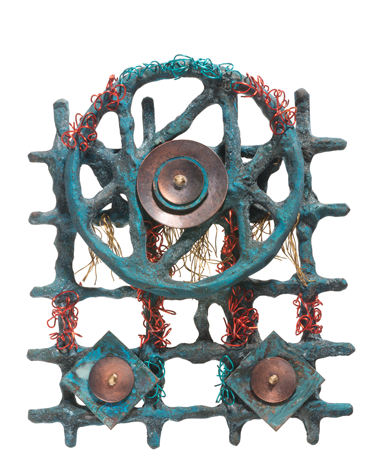 Ron Dutton (http://www.rondutton.co.uk/) won the Best of Show at FIDEM 2016 on September 10, 2016 for his group of medals, "Sun Terrace Beam," "Totem of Memories," "Hill Terrace Vines" and "Memories of Times Past."
These four medals are made of Brass, and wire and measure between 110mm and 135mm.  They fit within the genre of landscape medals for which Dutton has become so well known.  However, these medals take the landscape as an abstraction of the mind with a transparency of process that reveals beauty as impressed memory.  Dutton has worked in mixed media and used abstraction before, but not quite like this.
Selecting one artist from among the approximately 460 artists from 32 countries participating in the most important international exhibition of art medals in the world is a daunting task.  Before presenting the award at the closing banquet in Ghent on Saturday night, the committee explained it's criteria.  They wanted to select an established artist whose work on exhibit is fresh and compelling.  Even with that criteria, the selection was difficult.
However, for those who know Ron Dutton's work, his four medals were being discussed all week as the beginning of a bold new direction for him.  While he did not attend this year's FIDEM conference he was mentioned often and even toasted among those of us who know and miss him.  But Dutton was present at FIDEM 2016 through the medals in the UK exhibit case and while he was physically missed, his medals were a constant reminder of his presence.
"Land & Sky: The Medallic Work of Ron Dutton" published in the ANS Magazine in Spring, 2009 was once a fairly neat and concise explanation of Dutton's art dividing his work into three periods with some transitional periods explained and oversimplified.  Now there is clearly a new, fourth period to Dutton's style and his new work will force his entire body of work to be re-examined.  There really isn't a very neat and easy way to capture the complexity of this artist and his landscapes are just landscapes.
Dutton was instrumental in founding the British Art Medal Society (BAMS) in 1982.  He became known for depicting landscapes in bronze and his medal.   "Apple Tree Ladder (1975)" was singled out by Thomas Mullaly, the London based art critic as one of the twenty most important medals of the second half of the twentieth Century.  In 2009, Ron Dutton received the Saltus Award recognizing his lifetime of achievement in the art of the medal.  While there is much more that can be said about his vitae, his medals say it all much better.