France Wins Best Crown Coin Category at 2022 COTY Awards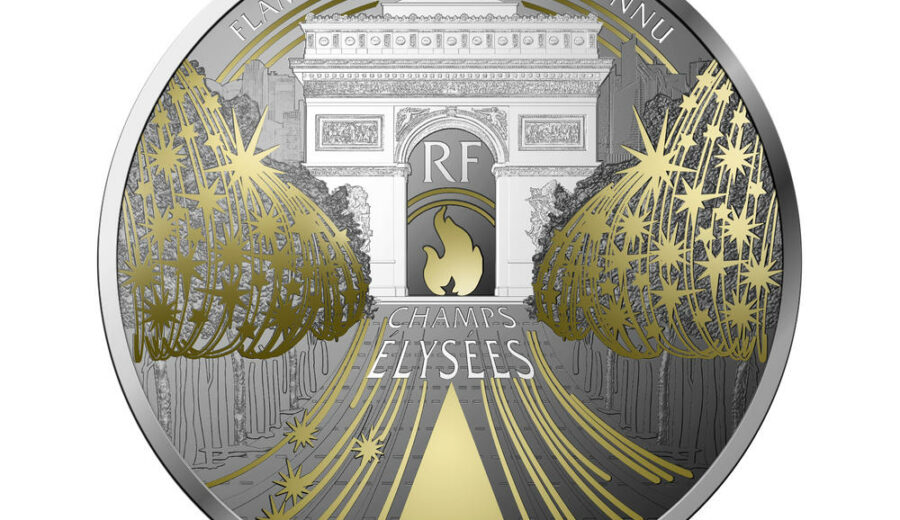 France's Monnaie de Paris won the Best Crown Coin category at the 2022 Coin of the Year (COTY) awards. The winning coin, dated 2020, depicts and is named after the famed Champs-Elysées.
Champs-Elysées Avenue, which links the Concorde Place to the Arc of Triumph, stretches over nearly 2 km in the heart of Paris and dates back to the 17th Century. One of the most famous destinations in Paris, it is also widely regarded as "the most beautiful avenue in the world."
The Champs-Elysées coin is part of the mint's "Tresors de Paris" collection The coin's obverse shows a view of the Champs-Elysées towards the Arc of Triumph. As described by the Monnaie de Paris: "In order to highlight Paris as a city of light, the most beautiful avenue in the world has been represented at night, when its trees are adorned with Christmas lights."
The flame of the unknown soldier, which celebrates its 100th anniversary in 2020, shines at the foot of the Arc of Triumph. The Concorde obelisk is visible in the foreground and shows the angle of the shot. In order to magnify this collection, the coins are decorated with selective gold deposits highlighting the illuminations.
The reverse is the common reverse of the Paris' Treasures series. It offers a modern view of the map of Paris and its districts represented by small pyramids. Above the map of Paris is the name of the series. Below, the face value and the vintage are shown.
Mintage of the coin was limited to 2,500. It measures 37 mm in diameter and weighs 22.2 grams.