Citizens Coinage Advisory Committee Welcomes Two New Members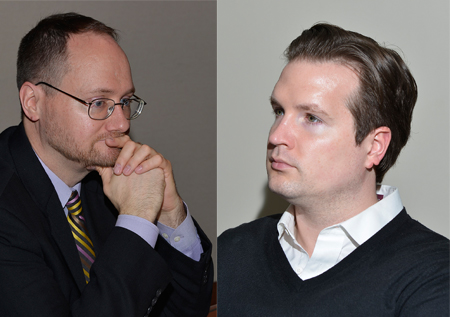 Steve Roach and Dennis B. Tucker recently joined the Citizens Coinage Advisory Committee (CCAC). Both members have backgrounds in journalism — Roach is editor-at-large for Coin World, while Tucker is the publisher of Whitman Publishing Company.
The eleven-member CCAC play a vital role in U.S. Mint's operations. It provides recommendations to the Secretary of the Treasury on the themes and designs of all US coins and medals, including circulating coinage, bullion coinage, Congressional Gold Medals, and national and other medals produced by the Mint. To achieve diversity, some members must possess special skills or backgrounds, including specialization in sculpture or medallic arts; numismatics; American history; and numismatic curation.
Steve Roach represents the general public and replaces Gary Marks. Dennis Tucker will serve as a member specially qualified in numismatics, occupying the position previously filled by Dr. Michael Bugeja. Both new members were both approved in February and will serve four-year terms.
While Roach does not fill the statutory position on the CCAC as a coin "expert," he continues the trend by Mint officials to select members with significant knowledge and experience in numismatics. As detailed by the U.S. Mint, Roach previously practiced law and served as a rare coin grader at Heritage Auctions. He now runs an appraisal and advisory practice focused on European and American fine art and rare coins. He joined the staff of Coin World in 2009 and currently serves as an editor-at-large.

Tucker serves as the publisher at Whitman Publishing, the largest numismatic publishing company in the country. He has published eleven additions of A Guide Book of United States Coins (more commonly known as the "Red Book"), which serves as the leading reference for coin valuations. As Tucker recently described in an article for Coin Update, his interest in coins stated at an early age. He wrote: 
I got hooked on coin collecting when I was about seven years old. My older brother Mike—who had started his service in the U.S. Marines when I was starting kindergarten—showed me a 1937 Buffalo nickel from his collection, and we looked it up together in a copy of the Red Book. That old nickel was about the neatest thing I'd ever seen. I was intrigued by the idea of grading ("Very Good" was better than "Good," but not as good as "Fine"), and coin values being tied to their condition, and all the cool old designs (especially colonial coppers). Mike let me keep the nickel—the first coin in my collection. I still own it! It launched a lifelong interest that became a fun hobby and, later, my career. 
Tucker's latest book, American Gold and Silver: U.S. Mint Collector and Investor Coins and Medals, Bicentennial to Date, was published in 2016.
Both new members of the CCAC have already made a significant contribution to design selection process.  This author noted in public at the March, 2016 meeting that Steve Roach has already suggested design changes to one of the sketches of coins presented to the committee at his very first meeting.