2017 Brookgreen Medal by Heidi Wastweet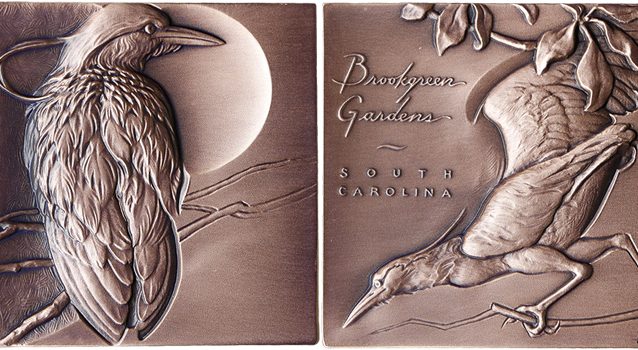 The 2017 Brookgreen Medal was designed by Heidi Wastweet. Her unique design features the first square-shaped medal in the series.
The prestigious Brookgreen Gardens medals collection is now one of only two series of American Art medals that exists. It follows the tradition of other art medal series, such as the Society of Medalists (1932 to 1995).
Brookgreen Gardens' Sculpture Collection
Brookgreen Gardens is located in Murrells Inlet, South Carolina. It was founded by sculptor Anna Hyatt Huntington and her husband, Archer Milton Huntington in 1932. It contains the largest collection of American figurative sculpture in the country.
The art is displayed in several locations on site, include a beautiful garden, three galleries and a visible storage and research facility. As described by Wayne Craven, author of the book, Sculpture in America, Brookgreen Gardens is "unequaled in its size, focus on figurative works, visibility of the sculpture to the visitor, and integration within a garden setting."
Brookgreen Gardens also has a Master Sculpture Program. Its Sculptors-in-Residence demonstrate the sculpture process to the visiting public, work on pieces they have in process, give lectures on their work, and teach workshops on a variety of subjects.
Wastweet's Brookgreen Medal
Artists selected to design the Brookgreen Medal are given creative freedom within their choice of three themes – the sculptor at work, the flora and fauna of South Carolina and the history of the property of Brookgreen Gardens. The designs must include the wording "Brookgreen Gardens South Carolina."
Wastweet selected the theme "Flora and Fauna of the Southeast." As she describes on her website:
I chose the Black Crowned Night Heron as my subject based on the large population of them in Brookgreen's Cypress Aviary. About 90% of the birds in the aviary are Black Crowned Night Herons who often trustingly let visitors walk up very close to them. I love spending time watching and photographing these noisy, entertaining birds but they are often overlooked by park visitors so I wanted to highlight them in a beautiful way. The two sides of the medal show two sides of the bird's character – the serious, gruff side, and a playful, goofy side. 
The obverse features a Black-crowned Night Heron, which is shown from the back, its head turned to the right, perching on a slender branch. The concavity in the upper-right quadrant, behind and beside the bird's head, suggests the moon. The reverse depicts a perching bird, a leafed branch overhead, looking downward to the left with its wings lifted about to fly. The words, Brookgreen Gardens, in script, suggesting lettering from an artist's sketchbook, and South Carolina, in block letters, are in the upper-left quadrant of the design.
In conjunction with the release of the medal, Wastweet conducted a weeklong medal making workshop. She also held a public talk about creating the Brookgreen Medal.