Stuck Disneyland Ride Leads to $8,000 in Damages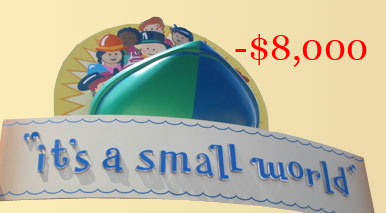 Some of the cases attorneys take never cease to amaze me. The fact that they win some of the more outlandish ones amazes me even more.
Anyone who has taken the "Small World" ride at Disneyland knows that it sometimes takes days to get the tune of the song, "It's a Small World," out of your head. It is little wonder that someone would want to sue for pain and suffering as a result of having to listen to that song for a long time.
Recently, a disabled man trapped on the Disneyland ride did just that. He sued for pain and suffering caused by the constant repetition of the "Small World" tune. He won a judgment of $8,000 in damages.
According to the lawsuit against Disney, Jose Martinez visited the amusement park in 2009 with his wife. While they were on the ride "It's a Small World," it began to suffer mechanical problems. While other riders were quickly evacuated, Martinez was forced to wait for over 30 minutes while the ride's music continued to play.
Because Martinez is paralyzed and uses a wheelchair, Disney staff told him that they could not move him. Instead, they waited for the rise to be fixed. Martinez required medical attention once he finally exited the ride. According to the lawsuit, he suffered from dysreflexia, "a condition experienced by those with spinal cord injuries caused by stress and overstimulation."
Martinez ultimately filed suit. Among other claims, he alleged that Disney should have contacted the fire department to evacuate him as soon as the ride broke down. He also maintained that Disney failed to warn disabled passengers prior to boarding that they could become trapped if the ride malfunctioned. Meanwhile, Disneyland maintained that it provided "all appropriate assistance."
Ultimately, the court agreed with the plaintiff on the theory of premises liability. Disney "should have known that there was a likelihood of harm to a disabled person, as reflected in its own standards for that ride," the judge ruled. Martinez was awarded $4,000 for pain and suffering and $4,000 for other disability access violations.
For more interesting Law cases, check out my Law Category in my favorites section. I particularly like "Who wants to be a millionaire."  If you are interested in speak with an attorney, please visit my law firm www.scarincihollenbeck.com.