Hurricane in Puerto Rico Was "Catastrophic" Event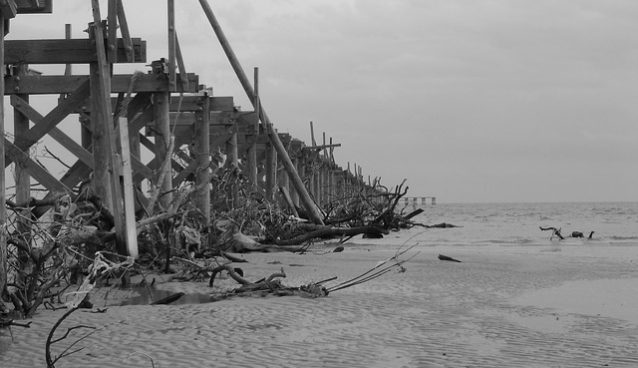 Hurricane Maria hit Puerto Rico with the flooding rains of Harvey and the destructive winds of Irma. Not surprisingly, Puerto Rico is still reeling several weeks after the nearly category five storm passed directly over the island.
The United States has been hit hard during the 2017 hurricane season, with three major hurricanes making landfall. In Puerto Rico, the damage caused by Hurricane Maria is being described as "catastrophic." The term is used to refer to situations when the infrastructure of a particular area is largely destroyed.
Hurricane Maria ravaged Puerto Rico for 30 hours with unrelenting wind and rain. The National Weather Service recorded maximum sustained winds of 155 miles per hour, and 30 inches of rain fell in one day. "It was as if a 50- to 60-mile-wide tornado raged across Puerto Rico, like a buzz saw," Jeff Weber, a meteorologist at the National Center for Atmospheric Research stated. Many homes lost their roofs, and miles of roadways were simply washed away.
The storm initially knocked out power and communications to the entire island, and services remain down for many Puerto Rican citizens. As of September 30, more than half of Puerto Ricans did not have access to clean drinking water. Power was still out for 95 percent of the island's population, and only 14 percent of cell towers were operational. Only half of Puerto Rico's roadways were clear, which meant that many areas were still cut off from relief supplies. In addition, only one of the island's 69 hospitals was fully operational. Gasoline was also becoming difficult to obtain, with only 721 of 1,100 gas stations open.
As of writing this article, the death toll in Puerto Rico stands at 34. However, Hector Pesquera, Puerto Rico's secretary of public safety, has acknowledged that there are likely many more fatalities. "I believe there are more dead, but I don't have reports telling me, [for example], eight died in Mayagüez because they lacked oxygen, that four died in San Pablo because they did not receive dialysis," he said.
Food, water, and other supplies are just starting to reach the remote areas of Puerto Rico. Overall, the island has a long road to recovery, which will be further complicated by its existing debt crisis. The citizens of Puerto Rico need the country (and both political parties) to rally around them.