Boosting Enrollment in Law Schools Is Restoring To Drastic Measures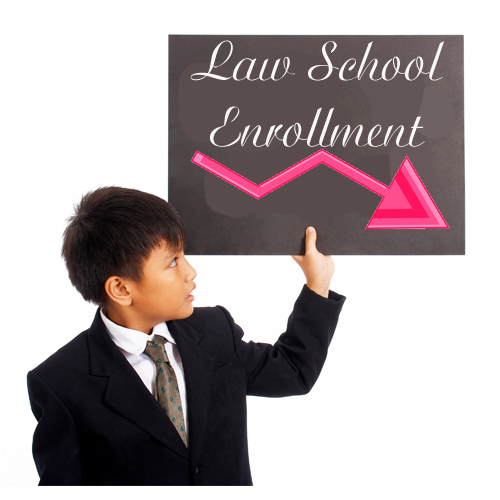 The legal profession doesn't enjoy the same cachet it once held. The number of students enrolling in law school dropped 11 percent in 2013 and is down 24 percent from 2010 figures, according to the American Bar Association (ABA). This number is pretty shocking and many department heads are looking to into new ways of boosting enrollment.
Overall, 39,675 full- and part-time students entered the country's 202 ABA-accredited schools this fall. The last time enrollment number dipped below 40,000 was 1975. Going forward, new applications are expected to decline even further, likely by another 10 to 15 percent in 2014.
The lack of applicants has forced many law schools to rethink their current models for attracting budding attorneys. The University of Iowa made legal headlines when it announced that it was cutting tuition by 16.4 percent. The new rates, which take effect in fall 2014, will apply to new and continuing students.
According to a statement by Law Dean Gail Agrawal, the tuition cut will help the college remain competitive at a time when applications to law schools are decreasing nationally and students are concerned about debt loads and job prospects. In-state students will save over $4,000, while out-of-state residents will see a $7,500 cost-reduction.
Closer to home, New Jersey's Rutgers School of Law-Camden received a censure for lowering its standards to attract more applicants. According to the ABA, the law school violated an accrediting standard that requires law schools to use a valid and reliable admissions test to evaluate an applicant's prospects of graduating.
Unless they receive a variance from the ABA to use an alternative test, schools are required to use the Law School Admission Test (LSAT). Rutgers subsequently qualified for a variance but elected to suspend the program.
The most promising way to attract new students may be the approach adopted by William Mitchell College of Law in Minnesota. The school recently received permission from the ABA to offer a program that includes an equal number of online and in-person classes. While many law schools offer some distance learning, this is the first time the ABA has granted a variance to allow a school to make 50 percent of its classes available online.
"Our research demonstrates that when implemented thoughtfully, courses blending face-to-face and online instruction offer students the best of both worlds," Eric Janus, dean of William Mitchell, said in a press release. "By harnessing e-learning technologies, professors expand their repertoire of pedagogical tools, allowing greater creativity and flexibility in achieving desired learning."
Ultimately, the decline in enrollment may be good news for everyone other than the schools themselves. In recent years, the glut of law school students has made it increasingly difficult for new graduates to find employment. So while law school may have to find other ways to generate revenue, the market correction may be just what the legal industry needed.
Feel free to leave any thoughts, comments, or ideas regarding boosting enrollment for law schools, below.